Disclosure: This post may contain affiliate links, meaning we get a commission if you decide to make a purchase through our links, at no cost to you. Please read our disclosure for more info.
After the gender reveal this weekend, things got less complicated, right? People can stop asking if the baby is a boy or girl and move on to planning the baby shower.
Believe us when we tell you, the questions don't stop. Now that a shower is in the works, everyone will want to know what color you're painting the nursery.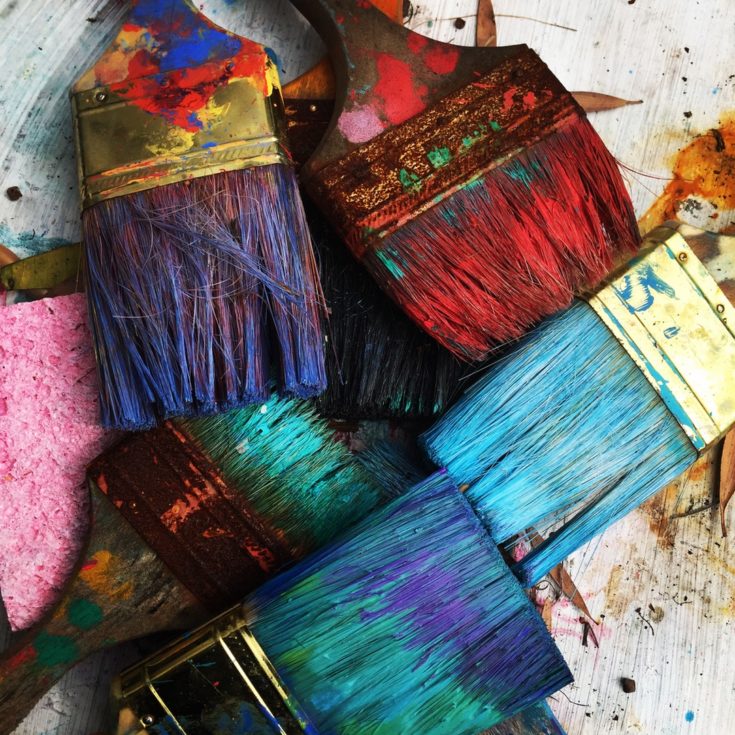 Baby rooms have come a long way in the last several years. Ask your mother. She probably painted your room either blue, pink, or yellow.
No boring nursery colors for your little buttercup! We won't allow it.
You may already have a color in mind. Before you buy the paint, get inspired with our 8 baby room paint ideas.
1. Start with Healthier Paint
Before you buy your first gallon of paint, take a few minutes and learn what type of paint is best for a baby's room.
Do you enjoy the smell of a freshly painted room? You might think differently when you realize the aroma indicates you're breathing in a chemical cocktail of Volatile Organic Compounds (VOCs).
You'll find VOCs in a wide range of common household items like carpet, bedding, and paint. Minimize your baby's exposure and opt for low-VOC or VOC-free paint.
You don't have to exchange health for a blah color palette in baby's room. These healthier paints come in every color under the sun.
Now that you know there' a healthy paint solution, choose a healthy color too.
2. Soothe the Baby
The primary activity in a baby's room is sleep. Healthy infant sleep patterns promote growth and well-being. Scientific studies show exposure to certain colors can improve sleep habits.
The goal is to create a relaxing environment where it's easy to soothe the baby to sleep. For healthy sleep, color psychologists suggest soft muted shades of color. The best colors for snoozing include:
Calming hues of blue such as powder blue and light turquoise
Greens in light to medium shades
Serene pale purples like lavender and lilac
Neutral shades of beige and brown
Light, blue-grays paired with bright white trim
If you choose gray, adding a splash of pastel color keeps this calming color from feeling too somber.
3. It's About Balance
The key to selecting paint colors for the nursery is balance.
To create a well-balanced color scheme, choose one primary shade. Then add one or two accent colors.
Paint walls with the lightest color. This will be the dominant color and represents roughly 60% of the room's color.
Choose a secondary shade and use it for bedding. You can also paint furniture such as dressers and bookcases in this shade. The secondary shade makes up about 30% of the color scheme.
Finally, use your accent color in artwork and accessories. Accent colors represent 10% of the color in a room.
You've now learned the 60-30-10 rule for color balancing.
Balance is about using color and texture. When you do it right, you create a feeling of wellness and harmony for your baby.
4. Look Around the Room
The room you're painting can help you choose the best paint colors.
Take a few minutes and take notes about the space. Is the room large and airy, or is it small with little natural light?
Too much color activity and darker hues overpower a small space. The light colors discussed earlier are the perfect choice for a small room. Light colors make a room appear larger and brighter.
When you take time to consider the needs of the nursery before buying the paint, you make the most of the space.
5. Pick a Theme
If you're feeling overwhelmed by the sheer number of baby room paint ideas, start with a theme.
Look at different decorating styles or themes. You'll notice common color palettes.
Pirate themes often use shades of blue—perfect for baby's soothing environment. A jungle-inspired theme works well with either muted greens or neutral beige tones.
If you have a favorite children's book or film, use it as the focus and choose paint colors that coordinate.
Don't limit your ideas to childhood favorites like animals or princesses. Think about choosing a cheerful theme with bright yellow accents. Or a luxurious theme using shades often associated with royalty—purple.
For more inspiration, look at baby magazines and home décor websites.
6. Feel the Fabrics
Bedding and other textiles can also help you choose paint colors. Some of the best baby room paint ideas come from colors found in an area rug or bedding set.
No longer limited to traditional baby prints, why not choose a bold geometric pattern? Pale pink or gray plaid pairs well with the tiniest hint of pastel paint color.
You won't search far for a wide range of whimsical prints that aren't found in traditional baby decors. Think llamas, moose, or flamingoes printed in bright colors. Choose muted paint hues to match.
Don't be shy with fabrics—the options are practically endless.
7. Paint Color and Furniture
Cribs, dressers, and other furnishings can easily coordinate with your color theme.
If you purchased nursery furniture before choosing colors, you can still create that balance we mentioned at the beginning of this article.
Consider refinishing wood furniture pieces with neutral white paint or antique stain. White pieces go with any color scheme and look fresh and new.
Dark wood furnishings complement warm color schemes and create a cozy, inviting environment.
Pair a neutral wall color like white or gray, with furniture painted in a bright accent color. For upholstered pieces, choose a bright, cheerful pattern.
8. Sample the Paint
You've spent hours gazing at paint chips. You've held each one against the wall and imagined rocking your little one to sleep under a blanket of calming color.
Don't rush out and buy gallons of paint just yet!
Paint chips aren't exactly true-to-life. Colors on a small square of paper can look quite different from the real thing.
Before you buy a gallon, buy a sample. Take it home and paint a swatch on the wall. Let it dry and look at the results.
Pay attention to how the color looks in the morning, at noon, and in the evening. Light can significantly change the color's appearance.
Once you've decided on the perfect color, hire a painting service or do the painting yourself.
Need More Baby Room Paint Ideas?
Thanks for letting us share our baby room paint ideas!
Decorating the nursery is always an exciting adventure. Use color psychology, VOC-free paints, and engaging textures and baby will have the perfect place to thrive. After you choose your paint, if you wanted a baby monogram for the wall Personalized By Kate has great options.
If you enjoyed this article and want more posts on everything baby, read our archives here. Congratulations on your new addition!