Disclosure: This post may contain affiliate links, meaning we get a commission if you decide to make a purchase through our links, at no cost to you. Please read our disclosure for more info.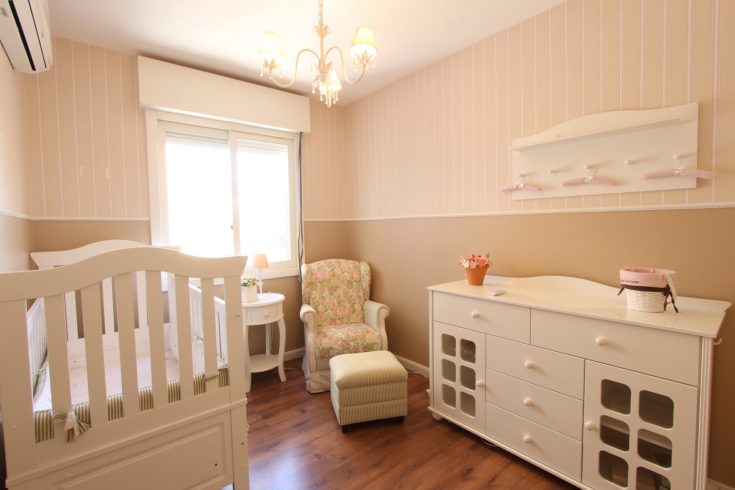 Pregnancy is tricky. Women experience different things: some are nauseous and tired all the time, others are bursting with energy, and there aren't two pregnancies that are the same. Still, mothers will agree that final trimester is exhausting: you get tired easily, your ankles get swollen, and you can't wait to finally meet your baby. While you're preparing for this exciting meeting, you should know that your house needs preparing too. Adjustments have to be made to accommodate the baby, and here are the best ways to do it.
Bedroom
Most parents agree on the following, though: you'll get very little sleep at the beginning. You'll learn to fall asleep anywhere, and you'll feel exhausted, so the most important thing is to feel comfortable in your own bedroom. A good nightstand is important because that's where your clock, lamp, book, and phone charger should be. Go through your wardrobe and stock up on postnatal clothes: comfy clothes, nursing bras, and natural materials will be lifesavers. Get good curtains to block out the sun and soft pillows to help your nurse and sleep.
[amazon_link asins='B0046EC0HW,B004RHNNUQ' template='CopyOf-ProductGrid' store='preemietwinswp-20′ marketplace='US' link_id='5d74b94f-5883-11e7-a5cf-795db06abe7b']
Kitchen
You might be a talented chef who loves spending hours in the kitchen, coming up with new recipes and experimenting. Sadly, those days are like a nice piece of clothes, put away in the closet until the time comes for you to wear it again. The same goes for the kitchen: for a while you won't have neither the time nor the energy to cook for hours because you'll be focused on your baby. If your partner is a good cook willing to feed you both while you and your baby are adjusting, that's great! Still, if you'd like to make sure everything is under control, buy some frozen meals, stock up on gift cards for restaurants, and prepare your own food which you can throw in the freezer.
Mind the edges
Modern furniture made of metal and glass, intricately decorated and sophisticated will make any house look elegant. When the baby comes, however, it's less about sophistication and more about keeping your baby healthy. Of course, your baby won't be able to walk for about a year, but sharp edges are always dangerous. Make your home more baby-friendly by removing anything that's breakable and that has sharp edges. You don't have to throw it away, simply putting it far out of reach will be enough. You can also wrap the sharp edges with bubble wrap or plastic guards to make sure baby won't bump herself.
Lock it all up
Securing the edges isn't enough, if you have any furniture that might tip and fall when the baby starts crawling (that happens sooner than you think), you should secure those as well. All electric sockets should be covered up so their small fingers won't touch them, and you could also put safety latches on any cabinets within reach. Also, any cleaning supplies should be removed from lower shelves and put higher. No more magnets and dangling cords for either window blinds or appliances.
Create space
You probably have friends and family members who already have children, and they will be willing to give you a few of their things so you don't have to buy everything on your own. When the baby comes it's more than handy to be prepared, but until then what can you do? One solution is to put all the baby things in boxes and keep it in a rented storage. There are numerous options for storage in Melbourne, or your local area has to offer, just make sure you get the one which suits your and your baby's needs best. As the baby grows, you can simply swap boxes: keep the ones with clothes and toys you no longer need in storage and take our baby feeders and clothes you need. This way you will save a lot of space in your home and make sure all is neat.
The birth of your first-born is only a few months away and you're totally new at this baby thing. You realize there will be a million and one things to do once the baby is born. What you want to know is what you can do to prepare for your new baby now. Hopefully, these suggestions can help prepare you for your new baby's arrival.