Disclosure: This post may contain affiliate links, meaning we get a commission if you decide to make a purchase through our links, at no cost to you. Please read our disclosure for more info.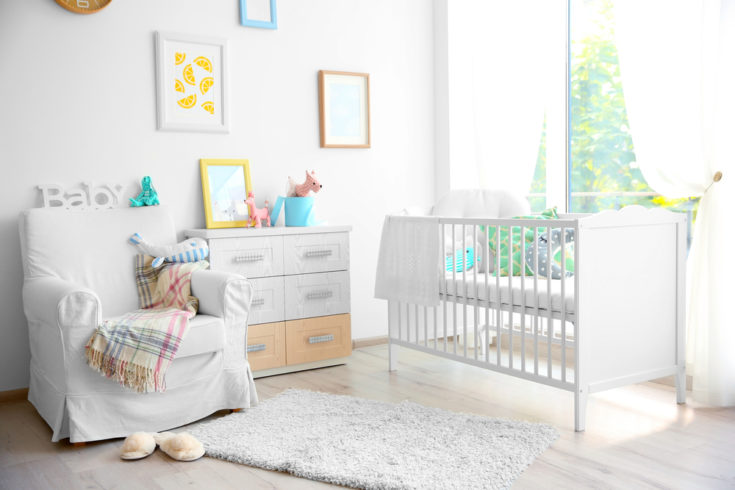 There is an immense amount of thought, effort, and money that goes into planning the perfect space for your new bundle of joy. When planning your baby nursery keep in mind that your baby will be in his room every day for many years. Although it has been estimated that a new-born baby can sleep for as long as 18 hours a day according to Stanford Children's Health, it is still of paramount importance that he is exposed to visual stimuli when he wakes to be fed or changed. While furniture and toys are an important consideration it is the actual color scheme of the nursery that will have the greatest long-term impact on your baby. By having a good understanding of how the shapes and colors within the nursery can impact your baby, you can create a space that is not only beautiful to look at but of great benefit to your little one as well.
The benefits of decorating the nursery with artwork
One of the most profound benefits of decorating your baby's nursery with artwork is its ability to inspire artistic flair in your baby. Being visually stimulated by art can also have a range of developmental benefits that range from improved motor skills and language development to inventiveness, cultural awareness and improved academic performance later in life. From a practical perspective, artwork is a lot more timeless than the latest Disney-inspired fad. When a child reaches a certain age he may no longer be impressed with his Paw Patrol or Noah's themed room. Decorating a room with carefully-selected artwork will also tremendously boost a child's color recognition abilities that can provide children with vital learning tools later in life in fields such as mathematics, science and, of course, creative arts.
What do the professionals say?
According to renowned American pediatrician Dr. William Sears, surrounding a baby with pastel colors is almost as injurious as blinding him. Instead of opting for the powdery colors typically found in nurseries he suggests opting for contrasting colors and bold black & white patterns. It has been proven that contrasts of black and white registers very strongly on a baby's retina, sending powerful signals to the brain. Leading child psychologist Dr. Amanda Gummer adds that by surrounding a baby with visual stimuli such as colorful artwork from birth you can significantly improve overall brain function as well as incite mental development. Dr. Gummer further goes on to say that babies who receive visual stimulation in the form of colorful art prints, murals and toys will make more neural connections and will be able to learn new things more easily.
What is the best artwork for a baby's nursery?
While animal prints and abstract shapes are always popular among both children and their parents, nothing prohibits you from being the 'cool parents on the block' and opting for a more 'retro' theme for your nursery: classic movies. Whether you are expecting a boy or a girl you can be rest assured there are a number of beautifully-designed, visually stimulating movie posters that will transform your nursery into a masterpiece. For a boy, you might consider posters from movies such as E.T., Back to the Future, and Airplane! while The Secret Garden, The Little Prince and Song of the Sea may be better suited to little girls. An alternative (and equally effective) approach to decorating the nursery is to incorporate a range of travel artwork into the decor. David Hockney's 'A Bigger Grand Canyon' is a beautiful, brightly-colored piece that will befit any cheerful nursery while a range of vibrant, vintage travel posters such as those created by the late Joseph Binder and David Klein can effortlessly transform a drab nursery into a fab one.The possibilities to decorate your baby's nursery in a creative and stimulating manner are endless. By incorporating interesting colors and shapes into your decorating efforts by means of movie posters you will not only boost cognitive development but also encourage your baby to use color as a channel for creative expression later on in life.