Disclosure: This post may contain affiliate links, meaning we get a commission if you decide to make a purchase through our links, at no cost to you. Please read our disclosure for more info.
You've chosen the perfect paint color or wallpaper for your nursery. You've come up with a list of all the books you want to include in the nursery library. You've even found a rocking chair you like.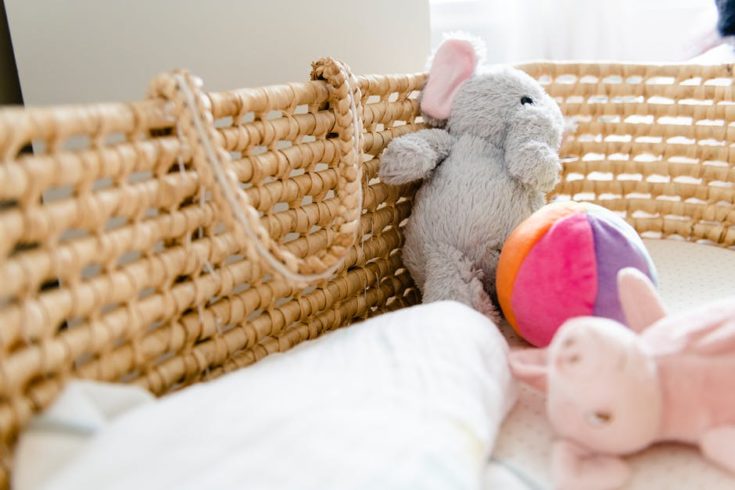 But the one thing you haven't yet considered?
Whether or not the nursery you're creating is truly safe and non-toxic.
Before you put your baby's health at risk, read on to learn how to create a non-toxic nursery.
1. The Right Crib and Mattress
For those rare moments when your baby is actually asleep, you need to ensure that they're not breathing in dangerous things like formaldehyde, toluene, and even lead.
You should always look for JPMA cribs and Greenguard Certified products, as they must be free from these known carcinogens and eco-friendly.
The same goes for your baby's mattress. Many foams contain harsh chemicals and fire retardants that can mess with your baby's hormone development and may even cause certain developmental delays.
It's simply not worth it. Always go organic instead, even if it's slightly pricier to do so.
2. Invest in Non-Toxic Changing Tables
Like it or not, when you have a baby, you're going to spend a lot of time at the changing table and using baby wipes.
We suggest that you buy either non-toxic wooden tables or that you invest in organic cotton pads that create a barrier between the baby and the table.
If you don't want to deal with constantly having to toss a changing table cover in the wash, look for one you can wipe down.
Just make sure it's BPA-free, made without latex or phthalates, and doesn't contain formamide.
3. Consider Baby Toys
When people are setting up a non-toxic nursery, they focus so much on furniture that they often forget about what's in the toys their baby plays with and, more importantly, chews on.
You need to make sure that you're using toys that are BPA-free, sourced in the USA to avoid lead paint and other toxins, and that have been tested by a third-party lab.
When in doubt?
Go for wooden toys or any of the products on this list.
4. Get Safe Cleaning Products
As a new parent, we understand that you want your baby's nursery to be as clean and germ-free as possible.
But there are countless dangerous chemicals lurking in many commercial cleaning products today — and many pose a specific threat to infants.
We suggest that you try non-toxic, organic, and natural cleaners only. Better yet? Make your own using white vinegar, lemon, and baking soda.
Create a Non-Toxic Nursery with These Tips
Building a non-toxic nursery isn't nearly as much of a headache — or as much of an expense — as many parents fear.
Use the advice in this post to create and maintain a beautiful space that's safe for both you and baby.
Looking for more parenting tips and tricks? Need more advice on how to go green?
Keep checking back with us to make sure you don't miss out on the latest news.