Disclosure: This post may contain affiliate links, meaning we get a commission if you decide to make a purchase through our links, at no cost to you. Please read our disclosure for more info.
Your child's birthday party can create hours of fun for the guest of honor and friends that attend, but it can also create hours of work for you. If you dread planning activities for every minute of a birthday party, host a backyard pool party instead. Your pool becomes the centerpiece of the party, and you just have to supervise the fun.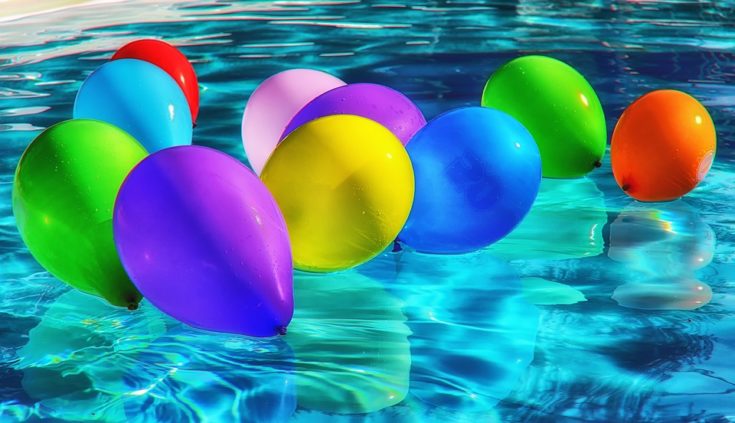 Whether you have a deluxe below-ground Blue World Pool or a luxurious above-ground pool, use the tips below to host a fun-filled birthday pool party.
Give Away Pool-Friendly Favors
Many birthday party guests receive favors as they leave the event. Break with tradition and give away your party favors when guests arrive. That way they can use your pool-themed gifts throughout the festivities.Consider these useful and inexpensive pool party favors:
Ask the birthday kid to help select which favors to give away. Their opinion ensures you choose a favor the party guests will love playing with.
Load the Pool with Fun Toys
Don't rely on the party favors to supply all the fun. Before the party, stock up on fun pool floats and toys. You could buy dozens of beach balls and put up a volleyball net or basketball hoops over the water. You might opt for several animal-shaped pool floats—think sharks, whales, dolphins, and flamingos. You could even splurge on one or two inflatable slides. The party guests will love them, and your family can use them after the party ends.
Play Pool Games
At some point, the kids may want a little direction about what to play next. Be ready to explain classic pool games, such as the following:
"It" closes his or her eyes and yells "Marco!" Other players yell "Polo!" and "It" follows their voices to tag someone else.
If your guests are strong swimmers, divide the kids into groups. Toss diving items into the water, and have the teams collect the items. The team that collects the most wins.
Kids stand in a circle and pass a beach ball while music plays. When the music stops, the child holding the ball is "out." Continue until only one child remains.
Take Safety Precautions
Don't forget that adult supervision and preparedness are essential for keeping your party guests happy. Ask a few parents to attend the party and help you watch the kids while they swim. Lather everyone with high-SPF sunscreen when they arrive and every few hours after. Set rules with the kids before they get in the water (for example, no running on the pool deck). Also keep a first aid kit on hand in case any accidents occur. Use solar heating to keep the water warmer naturally and to encourage the kids to stay active in the water.
Serve Water-Themed Snacks
A birthday party feels incomplete without snacks. Serve up some of these fun treats that match your pool party theme:
Goldfish crackers

Blue jello cups with Swedish fish inside

Gummy sharks

A fruit pizza that looks like a beach ball
Don't worry about keeping kids out of the pool for 30 minutes after they eat. Just make sure they stay to small snacks and don't fill up to much before going back in.As the tips above prove, you don't need much to host a super-fun birthday pool party. Some tasty snacks, simple pool toys, and basic first aid necessities will do the trick—and of course a private pool where all the fun takes place!
You can find Pool Party Favors for the best price on Amazon.