Disclosure: This post may contain affiliate links, meaning we get a commission if you decide to make a purchase through our links, at no cost to you. Please read our disclosure for more info.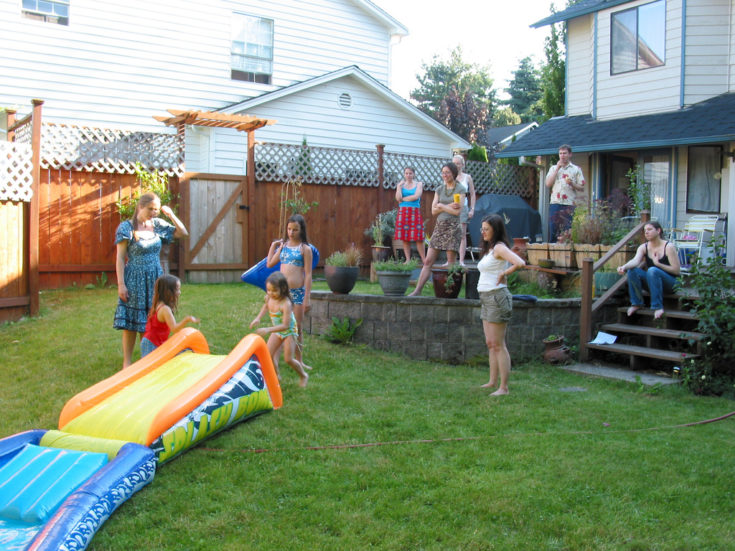 Every parent wants to give their child a fun and memorable birthday party. Most parents don't want to spend a fortune doing it. Fortunately, parents can throw their own backyard birthday party that's affordable and fun for kids and adults alike. A little bit of advanced planning will make your party go smoothly. You don't need a lot of fancy accessories to provide entertainment and laughs to your partygoers.Here are a few tips to help you get started planning your awesome backyard birthday bash.
First, think about what food you'll be serving. You can save a ton of money on food if you're willing to prepare it yourself. Offer peanut butter and jelly sandwiches to young guests and appetizers to grownups. You don't need to serve a full meal if you hold your party in the mid-afternoon after everyone has already had lunch. Make drinks and buy fresh fruit to serve. If your party is on a hot day, buy a couple gallons of ice cream and some toppings, and offer an ice cream bar and kids will never forget.
Next, think about the games and entertainment you want to provide. Consider playing classic backyard games like tag, red rover, and hide and seek. If you want to have something special, pick up some cornhole sets from a trusted supplier like Custom Corntoss. This affordable game can provide hours of lighthearted fun for people of all ages. If your party is in the summer time, you may want to turn on a couple of sprinklers and let kids run around in the water. Or, get some water balloons, but make sure you warn your guests in advance to bring their bathing suits.
Finally, you can make most of the decorations by yourself. A clean backyard is more inviting for most kids than the fanciest party room. Make sure you pick up anything that is potentially dangerous as well as anything that could be easily damaged by the partygoers. Make your own banners and birthday signs, or use affordable crepe paper and balloons to set the atmosphere.
There's no need to break the bank to hold a party that all of your guests will love. Your kid will have a blast playing in the backyard with his or her friends. And everyone else will love the fresh food and classic outdoor birthday fun.
Image Source: Flickr