Disclosure: This post may contain affiliate links, meaning we get a commission if you decide to make a purchase through our links, at no cost to you. Please read our disclosure for more info.
We all have many memories from those warm summer days we spent playing in the backyard, not having anything to worry about. Now, you can create an amazing playground for your children too to let them experience those feeling and maybe even recreate some of your favorite games. Every corner of your outdoor area can be turned into an oasis where your children can play and investigate their surroundings in a safe way. The greatest thing is that this way they can always be close to you, so you can still keep an eye on them while letting them run free and enjoy summer.
There's No Playground Without a Swing Set
This simple addition is the best investment you could possibly make and it will be the center of attention on birthdays, playdates, and basically every day. Children generally like swings, there's something in their movement that makes them spend most of their time trying to get higher and higher. You can buy these sets separately or with the addition of a slide which can come in handy, especially when you have visitors and wish to prevent children from getting into a fight over whose turn it is.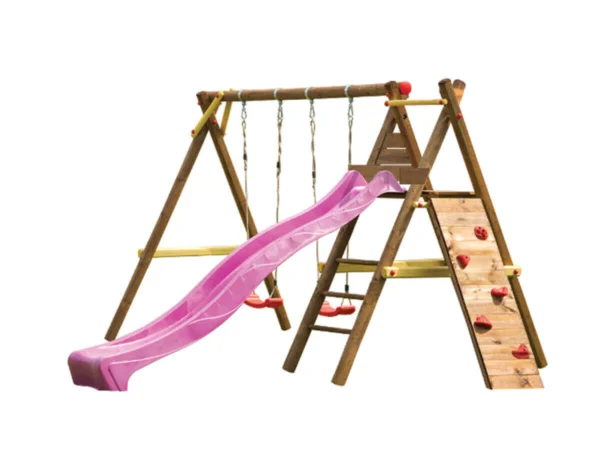 Boost Their Creativity
The outdoors is the best area to let your children play without worrying that they'll break something or destroy a piece of furniture. There are a lot of cheap ways you can boost your children's creativity and let them show off their artistic side. What many children like is a big chalkboard wall. It is easy to make and it's definitely worth your time and effort. It gives them not only a place to draw, but also an interesting way of keeping score in competitive games. You can also hang blank canvases and let them paint over them without having to worry about them spilling the paint or getting it on furniture – this opportunity will make them express their creativity freely and securely.
Be Sure to Clean Everything
Every part of the playground equipment needs to be cleaned and well-maintained, given that your children will spend every minute of their time playing outside. Apart from that, you need to clean concrete surfaces as well. For that, you can always rely on quality Karcher pressure washers that will effectively deep clean all areas your child might get in contact with. This way, you'll be sure your youngsters will play in a bacteria- and germ-free space and they won't be in any danger. Children also have a tendency to spill things a lot and you need to be sure they won't step into a puddle of juice or a melted ice cream.
What About a Treehouse?
We all wanted a small treehouse when we were little, and so do our children now, so you need to include this in your playground design. You don't have to go overboard and build something spectacular, your kids will be happy with a small hiding space too as long as it's on a tree. Just imagine them and their friends organizing playdates, sharing secrets, setting up meetings and just enjoying being kids. Be sure to make a fence, talk to your kids about safety and always keep an eye on them making sure they follow the rules you've agreed upon.
An Outside Movie Theater
OK, this is probably a thing parents will enjoy more than their young ones, but it can also be a great family activity and a learning process too. This project is great because it doesn't require a lot of money – on the contrary, it costs close to nothing. You just need a big white sheet, some comfy blankets, lots of pillows and a projector which is probably the only thing you'll have to buy. Apart from movies, you can organize themed documentary nights to help your children learn more about the world while also being entertained. They'll be thrilled to pick new themes and surely learn lots of new things and develop new interests.
Be sure to include your children in the design-making process and ask them what they would like to have in the backyard. Surely, they'll have lots of crazy ideas impossible to put into reality, but they will also be happy you've asked them for an opinion.