Disclosure: This post may contain affiliate links, meaning we get a commission if you decide to make a purchase through our links, at no cost to you. Please read our disclosure for more info.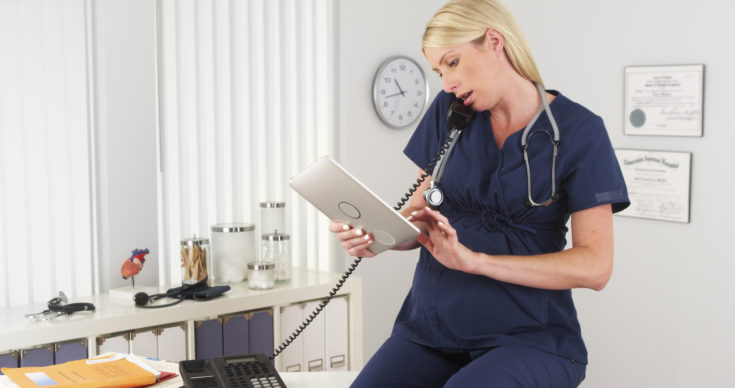 Studying nursing whilst pregnant may not seem like an ideal situation, however, for many student nurses, it's a reality. Whether you've just discovered that you're expecting a little bundle of joy mid-way through your online BSN degree or have decided that you're going to take on the challenge and begin nursing school whilst pregnant to help give your little one the best start in life, making sure that you stay both comfortable and motivated throughout your studies is important for keeping going and getting the best results. We've put together some top tips to help pregnant student nurses succeed.
Tip #1. Plan Ahead:
Although you may be absolutely fine when it comes to studying during the first and even second trimesters of your pregnancy, it's a good idea to ensure that you've fully planned ahead for later on in the nine months. Make sure that you have a plan in mind for what to do when your due date is approaching; it's a good idea to speak to your tutors and mentors to ensure that they are aware when you may need to take time off or study flexibly to ensure that your stress levels aren't high when you're close to giving birth.
Tip #2. Study Online:
Even as a student nurse, you'll want to make sure that your pregnancy is a priority, and that taking care of yourself and your little one always comes first. Considering alternative, more flexible methods of studying nursing such as an online bachelor of science in nursing, may be a good idea for you throughout your pregnancy. Online degree programs allow you to study flexibly and in your own time from home, which is much less stressful for you than having set lectures and seminars to attend at a college building. After achieving your bachelor's degree, you can go on to obtain a Master of Science degree. 
Tip #3. Make Yourself Comfortable:
If you're sitting comfortably, then you're going to feel more relaxed and focused when carrying out work and studying for your nursing degree. Taking the time to create a comfortable working space for yourself at home can certainly pay off in the long run. Since you're pregnant, it's a good idea to take that into account – pile up the pillows and make sure that you have somewhere to put your feet up on whilst you study to make sure that you're not being distracted by discomfort.
Tip #4. Get Moral Support:
Studying for a nursing degree can be difficult enough at times, especially for those students who are perhaps studying for a career change, or returning to the classroom later in life. If you're already juggling your degree with other commitments such as holding down a job and looking after other children, then adding being pregnant into the mix can simply become another stressor. Ensure that you turn to your relatives and friends to get as much moral support as you can; the people who care about us can be excellent resources whilst studying for both emotional and practical support.
Did you find these tips helpful? We'd love to hear from you in the comments.