Disclosure: This post may contain affiliate links, meaning we get a commission if you decide to make a purchase through our links, at no cost to you. Please read our disclosure for more info.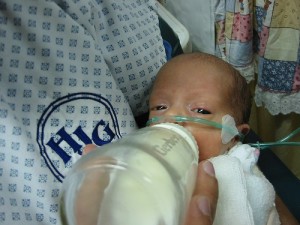 The news that your baby will be born prematurely may be incredibly difficult to cope with. The complications involved may overshadow the miracle of birth as your anxiety and stress reach terrifying heights concerning your child's health. Although this situation can be worrisome, there are ways of to handle the premature of your baby that can give you and your family a brighter outlook for the future.
It is a common rule of thumb that the earlier a child is the born, the higher chance there is for complications. It is critical to your child's survival and ongoing health to receive the proper care needed specifically for a premature baby. This would entail assistance with breathing and maintaining body heat. It is important to understand that feeding your preemie will be an obstacle to overcome. Jaundice, a yellowing of the eyes and skin is a common ailment of premature children. Anemia, a lack of red blood cells to carry oxygen to tissue, is also prevalent in children born prematurely. More critical maladies can include infection, internal bleeding and apnea. By educating yourself about these conditions, a parent can be more prepared to handle the problems a premature baby faces.
It is most likely that your child will be held in NICU, otherwise known as neonatal intensive care unit. This is a place particularly set aside to meet the unique needs of your premature child. Medical professionals are there to care for your babies every need and to help assist you with this difficult time. While your child is in NICU, it is your responsibility to maintain an active role as parent and to discuss your child's needs with the medical staff.
Often, people fear what they don't know. It is helpful to you and your child to learn as much as possible about your baby's current condition. This not only helps reassure yourself, but also helps doctor in assisting you with your needs. By educating yourself, you no longer have to fear the unfamiliar equipment that occupies the NICU. Don't be afraid of searching out answers, or asking questions. This is a situation in which the more you know, the better.
Although your child may be unable to feed from a bottle, or breast, it is a good idea to establish a routine of pumping milk for later on. Breast milk contains essential proteins that can help your premature baby fight infection and promote steady growth. Once your milk supply is established, it is important to pump at least eight times a day to maintain your flow of milk. Breast milk can always be stored, or frozen for later use at your convenience.
Learning to take care of a premature baby can seem like a daunting task. By initiating feeding and diaper changing in the early stages, it promotes healthy interactions between parent and child. Learn how to speak to your baby with sweet words. This can often be the key to getting your baby to sleep. The bonds established in the child's youth will carry over into adulthood and it is critical to the baby's development to have the love and care he needs.
When your baby is finally ready to come home, you may be experiencing a mixture of emotions: relief, worried, excited. Remember as you are taking care of your child to take care of yourself. Recognize your emotions and expect to feel a wide range of them. Don't be shy about seeking out help when you need it, or taking a break for yourself. It is important to see this time as a positive step in the right direction. Your child can now leave the hospital and will be on its way to progressing as a healthy child at home where he belongs.
Sarah Danielson is a writer for Nursing School Scholarships where you can find jobs, scholarships, and nursing career descriptions.
Photo Credit: César Rincón, Flickr