Disclosure: This post may contain affiliate links, meaning we get a commission if you decide to make a purchase through our links, at no cost to you. Please read our disclosure for more info.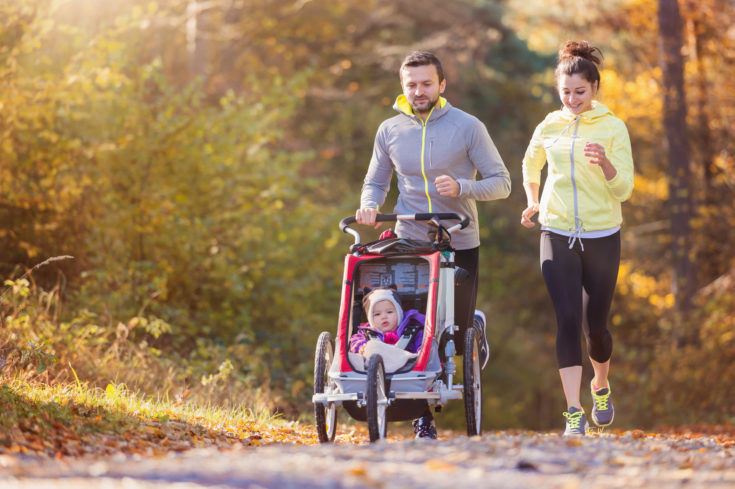 A jogging stroller is a mom or dad's most significant asset when they are exercising with a baby. Not only does the three-wheeled device give parents the flexibility of running while babysitting. Jogging strollers let you securely workout with your young child, but it is possible to cause harm to kids when you do not take the necessary precautions to ensure that your little ones are safely resting in the carrier. Here, then, are six of the safest ways to run with a jogging stroller.
Put the seat up when you run or jog
It may seem like a simple task, but putting the seat up when you exercise does more than you think. A reclined chair may bring about discomfort as your knees continuously hit the stroller, which makes the device less stable. The last thing that you want is for the seat to collapse and your kid to fall out and injure himself. Such is the reason why putting the seat up is so crucial.
Always lock the front wheel
Most jogging strollers have the third wheel in the front that tends to go in different directions. The best way to establish stability is to utilize the lock attached to the front tire. The mechanism ensures that the wheel stays in place as you move vigorously on your path.
Those with bigger budgets for jogging strollers may want to consider models with sturdier wheels that do not move about as you run. Such incentive gives you one less thing to worry about before your morning or midday workout.
Make use of the five-point harness and the parking brake
The five-point harness of a stroller helps keep your child steady as you jog or run. Perhaps the most significant attribute of these accessories is their ability to adjust to the size and height of your child. The parking brake is another attribute of the jogging stroller. You should make use of this tool every time you pause for the cause of doing a few lunges and burpees.
Do not hang bags and other heavy equipment on the carrier
Most moms and dads view the stroller as an extension of their purse or baby bag. It is essential, however, to remember that the stroller is expected to carry all your child's weight and whatever else you place on or inside of the device. The danger of collapse becomes even more significant if your child is under a year old and, hence, weighs fewer pounds. It is a great idea to invest in a hydration belt for water and leave the diaper bag at home when going for your morning run.
Stay off the main streets
Busy intersections are a recipe for disaster when you are jogging with your kid in tow. You should either choose designated recreation paths or a road where cars are not privy to travel down when you are exercising with the baby.
Do not go far
A jogging stroller works best when used for short distances. You may find the device an excellent tool when your range is one mile or less. The stroller may become a bit of a hassle if your workout routine includes more than two miles worth of cardio.
You may be anxious to get back to your workout routine after the arrival of your precious cargo. Using a jogging stroller with a child who is younger than eight months, however, is not suggested. It is best to start out walking with an infant in the car seat if the little one is between zero to eight weeks old. You should seek the advice of a pediatrician if you just have an urge to start jogging again.
Can't afford a jogging stroller? Buy a stroller now, pay later.