Disclosure: This post may contain affiliate links, meaning we get a commission if you decide to make a purchase through our links, at no cost to you. Please read our disclosure for more info.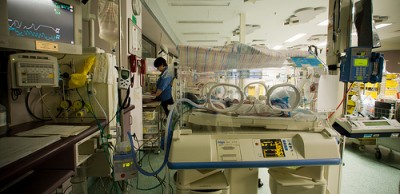 When parents are expecting twins, they often wonder – will my babies have to spend time in the neonatal intensive care unit (NICU)?
Approximately 60 percent of twins are born prematurely, and nearly 50 percent of twins will be born at low birth weight, which means many newborn twins need the extra in-hospital care of the NICU.
Because twin parents often know about the NICU in advance, they tend to feel less surprised about a NICU stay, and they seem to be better prepared for the experience because the advanced awareness.
Nonetheless, the NICU is still an incredibly challenging time. In addition to the sadness and frustration of being separated from your babies, the NICU is a whole different world of medical terminology, visitor restrictions, complicated medical equipment, feeding challenges and much more that interferes with bonding.
After 17 years of neonatal nursing, I've cared for countless twin families, and I can tell you that it can be a good experience, in spite of the challenges. I would like to share a few important tips about how to make the most of your NICU experience:
1 – Speak up. You are your babies' advocates – they depend on you to speak up for what you, as a family, want for your newborn experiences. Let your NICU staff know what you need and what you want. Nurses take care of so many different types of families, and every family has unique hopes and dreams, so nurses rely on the parents to express their needs if we are going to be able to meet them. They're your babies, so speak up and express your wishes.
2 – Ask for help. Your friends and family members want to help, they want to show their love and support, so let them. Give them lists of things they can do to help, like doing a load of laundry, helping babysit older siblings, preparing a meal, or running a simple errand. You are in the middle of a very stressful time so please accept the help that is offered.
3 – Ask for Recommendations. You don't have to just suffer through the NICU and wait until your babies are home to have useful accessories and cute baby products! There are wonderful preemie specific items that make the NICU more enjoyable. And anything you can do to make it more enjoyable is worth every penny, because it can be otherwise a pretty hard experience. Whether it means finding cute art to decorate their NICU cribs, or cute preemie outfits to dress them in, or must-have products to make mom's experience better such as a hands-free pumping bra or yummy lactation cookies, knowing what other NICU moms have used and loved will make your journey more comfortable. So ask your friends, or visit stores such as EVERYtinyTHING, which has been created specifically to meet these needs.
4 – Do Kangaroo Care often (skin-to-skin holding). Skin to skin holding is beneficial for both moms and babies, so try to find ways to make it happen as often as possible, Your NICU will let you know when your preemie is stable enough to hold, but be sure you tell them early on that you want to hold as soon as possible. Of course, with twins, ask to hold your babies together, at the same time, as much as possible. The babies usually love it, and moms always love it!
5 – Find Support. The emotions that NICU parents feel are powerful, and whether the diagnoses are simple or complex, parents end up stressed out, depressed, and some even with diagnosable PTSD. So this is a biggie – don't just suppress your feelings! Parents who join a support group – whether specifically for the NICU or for twins – are able to talk about their feelings, get support and understanding. Talk with your partner, but don't expect him or her to be able to meet all your needs for support and counseling. Support groups and certified therapists/social workers are incredibly helpful for getting through the emotional upheaval. You can even find some great support on some online forums. Your wellbeing is incredibly important for your babies, so get the support you need.
6 – Personalize the NICU space. Many parents don't realize that they can bring some joy to their NICU space by bringing in their own blankets, clothing, pictures, drawings, stuffed animals, and more. While the babies probably don't notice, twin parents love the feeling that they can create a small home-away-from-home and make the place a little more comfortable for themselves. And I just can't say it enough – anything you can do to make the experience more positive and joyful is worth every effort.
7 – Meet with a Lactation Consultant (if you're breastfeeding or pumping). I think every preemie twin mom should meet several times with a lactation consultant, if they're breastfeeding or pumping. Twin feeding is uniquely challenging and you deserve to have expert input and feedback. If your NICU doesn't automatically set up appointments with a lactation consultant during your NICU stay, speak up and ask for it. It's just too important to do without some knowledgeable experience to guide you.
8 – Remember nurses are human. Parents in the NICU often find it annoying to have so many different nurses who all do things differently. But please keep in mind, each nurse has a different education, different life experiences, and it's inevitable that each will be a little different in caring for your babies. Try to make the most of the experience by being open to what each individual nurse has to offer.
You will most certainly find some nurses you don't like, and that can be incredibly difficult for parents. But your babies won't remember the individual nurses, so try not to let it get to you too much. If you really like one or two nurses in particular, request a primary nurse (however, not all NICUs do this.) If you really can't work with an individual nurse, it is perfectly acceptable to request that she/he not take care of your babies. But try to learn from all the different ways of caring for babies that all the different nurses might have.
9 – Educate yourself, wisely. Searching randomly online can take you to some places filled with negativity, worst-case scenarios, and daunting statistics. I recommend relying on well researched books like Preemies, Second Edition, or well-researched and positive online sites such as March of Dimes or Hand to Hold. Most importantly, ask YOUR hospital staff. They will best be able to tell you what to expect from your stay with them. Not every NICU does things the same, so it's most important to know what to expect from your particular hospital.
10 – Find joy and celebrate when you can. There is plenty to worry about in the NICU. But there is also plenty to celebrate, and wise parents will make the effort to focus on the positives. Every bit of good news – weight gain, decreased oxygen requirement, an easy kangaroo care time, even just a good burp – is worthy of celebrating. It is invaluable to balance the NICU stress and negativity with some positivity and joy.
While the NICU is a challenge, I encourage you to make the very most of the situation and remember to celebrate every wonderful milestone. Get support, be with your babies, and try to embrace this as a vital and wonderful part of your family's new beginning. Flexibility and a bit of humor go a long way towards making life better. Good luck, stay positive, and hang in there!
Image Source: Flickr