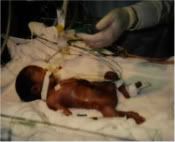 If you read our NICU story, you know that both of my twin daughters were diagnosed with Necrotizing Enterocolitis (NEC) where the bowel become infected and dies.  Macy had seventeen inches of her small intestines removed and a temporary colostomy.  Mallory only had a few centimeters removed and was fortunate not to have to have a stoma put in. Back then (15 years ago), the mortality rate for infants infected with NEC was 77%.  Thankfully my girls beat the odds.
I subscribed to TWINS Magazine when the twins were still babies, and met many new friends in similiar situations through their PenPal section.  This is before we had the internet – imagine if I had access to all of the information online back then!  I corresponded with several other moms of preemies, and I was especially interested in hearing from those who had experienced NEC firsthand.
I found some interesting trends among those that wrote to me, so when I started a website dedicated to my "Million Dollar Miracle Babies", I made an online survey for others to participate so I could see if I got the same conclusions.  Here are some statistics thus far…
NEC is more common among males than females 
In twins/multiples, NEC is more common in the first born.  
NEC is more common among formula fed infants than breast fed infants.
There is litigation that some PDA medicine may be linked to causing NEC.
Obviously my daughters skewed the stats being female.  And usually in twins, only one (and usually the first born) has NEC.  Whereas both of my daughters suffered from it, but Macy (Twin B) was worse off.  My girls were formula fed and given meds for PDA, though.
If you or someone you know have had experiences with this deadly disease, I would love to hear your results by completing our NEC Survey.  All of your answers will remain confidential.
I would also love to hear your NICU story!  Share your story to be posted here on PreemieTwins.com!