Disclosure: This post may contain affiliate links, meaning we get a commission if you decide to make a purchase through our links, at no cost to you. Please read our disclosure for more info.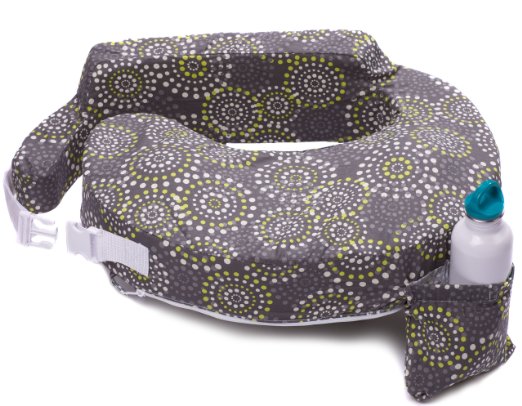 Using a nursing pillow can help with positioning and latch of your baby. This can help prevent problems with nursing and make it a more comfortable experience for you and baby. Many women have trouble finding the right position for themselves and their infant while breastfeeding. Once they do find this position, it can be difficult to maintain it for the long periods of time needed for feeding each day. A nursing pillow helps both of these problems by allowing for a safe and secure resting place for the infant while he or she is nursing. However, not all nursing pillows are alike. Learn what pillows offer what support and which pillow help which situations from preemies to twins, breast and bottle feeding and more!
Look for the following characteristics
Does it come with a washable slipcover? Spills during nursing or drooling during tummy time calls for regular washes, so it is important to have a slipcover that is easily washable.
Are there visible zippers or Velcro? You don't want either of these things because they can protrude and scratch the baby or yourself. Look for a soft and smooth cover, all the way around.
Is it big enough? Make sure that it fits around your waist comfortably so that you are not struggling while breastfeeding your little one.
Look for the following types of Nursing Pillows
My Brest Friend Pillow
My Brest Friend Breastfeeding pillows
wrap around your waist for a secure fit while you feed your baby. It also has latch risers to help ensure a proper latch for breastfeeding babies. Pockets help store items needed while feeding baby.
Boppy Pillow
The Boppy pillow was not originally designed as a nursing pillows, however, it has come to be used quite frequently for this purpose. Many moms really love the dual use of the Boppy as a nursing pillow and a baby toy.
The one complaint about the Boppy for nursing is that it doesn't fit all moms around the waist. Lots of colors and patterns and now removable covers on some models.
Natural Nursing Pillow
This breastfeeding pillow is less circular and therefore fits your lap rather than your waist. It offers bright designs and can be used for other purposes.
Utterly Yours Breast Pillow
The Utterly Yours Breast Pillow is a bit different than most breastfeeding pillows. This one supports your breast for hands free nursing rather than supporting the baby. This is a great gift for a new mom and works really well for mothers with larger breasts.
Nurse Prop R Pillow
This is actually an adjustable pillow that also encircles the waist for support for mom's back and freedom of movement. The angle of each side is also adjustable to help prevent air from getting in baby's mouth. It has handy side pockets to store feeding supplies.
Twin Nursing Pillow
When you have more than one baby, you need just the right twin breastfeeding pillow to help.
A normal nursing pillow just doesn't cut the mustard because you have two babies. If the babies are smaller, they need even more support and you have fewer hands…
Honeysuckle Pillow
The Honeysuckle Nursing Pillow is a great breastfeeding aid. It probably works best for moms with long torsos or those who will be on a chair without arms.
You can find Nursing Pillows for the best price on Amazon.