Disclosure: This post may contain affiliate links, meaning we get a commission if you decide to make a purchase through our links, at no cost to you. Please read our disclosure for more info.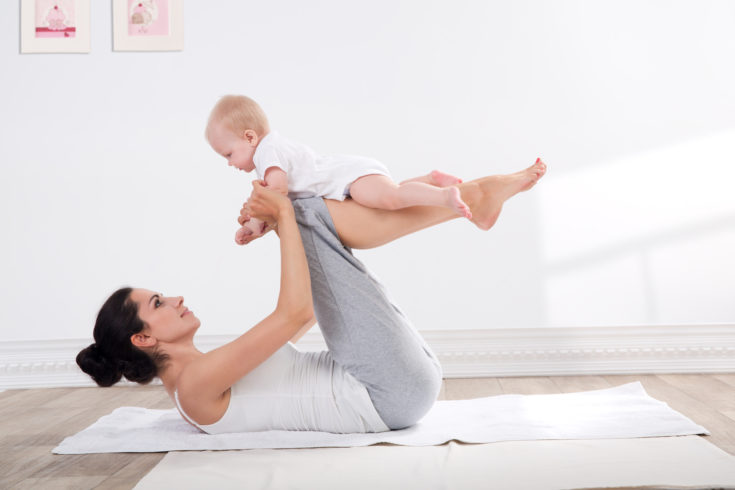 Being pregnant and bringing your baby into this world are no easy feats. They require an extraordinary amount of effort and even pain to do. Your body changes, in some cases it can rip, or become damaged. Your health, in short, takes quite the beating. Perhaps you ate too much during your pregnancy in order to appease the cravings. Perhaps you got out of the habit of regular exercising. Whatever your health-related woe, don't worry. You can get back into shape even with an infant around. Rather than try to steal away time, incorporate your exercising with the newest member of your family.  
Benefits of the Outdoors
There are benefits of being outdoors every time of the year. There are also fun activities that you can do year round that help you get outside and get active. From snowfall to warm summer days, there is something for everyone. The benefits you can enjoy from being outside will, largely, also apply to your new baby. Of course, you won't want to bring a newborn out into the winter cold, but after their first year, there should be nothing holding you back. Simply ensure they are bundled up nice and warm and bring them out with you as often as you can. This will help them grow up to be strong, with a love of both nature and exercise.
Benefits of Regular Exercise
The benefits of regular exercise should be obvious to everyone. Even to new mothers who can't believe they were ever not tired at one point in their lives. That's because regular exercise can actually help your body stay fit and retain natural energy throughout the day. So, while it may be difficult to get started, you will start to feel more energetic as time goes on.
Tip: Slowly transition your new baby to be more active themselves. When they are young, bring them with you on walks in their stroller. Then as they get older go for short walks, then bike rides, then hikes and more. This way you can make exercising and the outdoors a special experience for the both of you.
What to Know About Babies
The only thing to remember is that you will have to wait before you can take your baby outside. The first few months are very critical. Your baby is so new that its bones haven't even solidified yet. Its head is soft, and it certainly cannot hold its head up on its own. That is why it is best to start your exercise regime until later, usually 6 to 10 months. That way they are more durable, able to handle being outdoors and can be brought along on your outdoor adventures. Always ask your doctor beforehand, though, as your baby might be developing either faster than normal, or slower, and you don't want to risk their health.
Ways to Get Exercise in with Your Baby
Thankfully, there are many ways you can exercise with your baby. These include:
Strollers are a staple to any new mother's routine, but that doesn't mean that they cannot have multiple purposes. You can get a babyjogger stroller, or add-on strollers to your bike for further routes around town.
Perfect for infants who are older than 6-10 months, the jogger strollers are made for terrain. This means that they can keep your baby comfortable while you enjoy a jog through the park or even a hike through an easy path in the woods. Your baby will benefit from the fresh air, and you the exercise.
Similar to a stroller is an add-on that can be attached to your bike. These are ideal for older children, as the rides can become quite bumpy. The best part is that they often come with a waterproof shell so if it rains on your bike ride your children will be dry and cozy.
Exercise with Your Baby
When they are infants, try to follow along with easy exercise videos while they nap in the same room as you. Getting an exercise ball and doing some low-impact routines can help you stay active and tighten up your core so you can get your pre-baby body back as much as you can. When they get older, you can do more complex exercises around them. There are many videos online that show you how you can do it. For example, you can do push-ups on top of them, where they lay on the floor in front of you. You can then give them the attention they want, and you can benefit from your strength workout.
Walks and Playtime in the Park
The older they get, the more they can start to play and explore on their own two feet. Go on short walks with them around the neighborhood. Take them to the park to play. Teach them how to ride a bike – all of these fun filled activities can help them stay active and healthy throughout their lives.
Though it might not seem like it, infants have a natural response where they will automatically hold their breath when under water. While you shouldn't try to do this by yourself, it can make a fun activity to do with your baby if you were to join a specially designed class.
Benefits of Joint Exercise
By exercising with your baby, and then nourishing these habits throughout their childhood, you can:  
Foster a love for the outdoors in your child

Create a love for exercise from a young age
Being a mom doesn't mean you cannot be healthy. In fact, being healthy will actually improve your overall ability to be a parent. Unhealthy eating, not getting enough exercise – both of these will only make managing your responsibilities more difficult. Rather than let your health slip like this, make time for both your baby and your body by following this guide and sticking to your new, healthy routines.