Disclosure: This post may contain affiliate links, meaning we get a commission if you decide to make a purchase through our links, at no cost to you. Please read our disclosure for more info.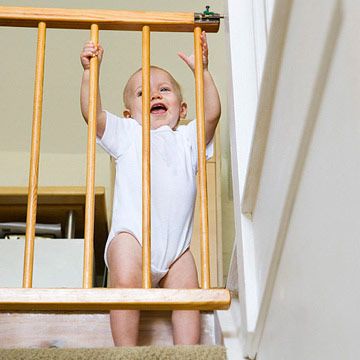 While parents think a lot about protecting their kids from strangers and the dangers outside, many fail to realize that their child is just as likely to get hurt when inside the house. Children are likely to get injured from burns, choking parts, falls, etc. when at home, which is why it is absolutely necessary to childproof your home.
If your little one has started to crawl already, you shouldn't waste time in childproofing your house. You need to look inside and around your house for potential dangers so that you can prevent accidents from taking place.
If you don't know where to begin, here are some tips you can use.
Be Careful with Furniture
Large and heavy furniture like bookcases and dressers should be against the walls. Make sure televisions, computers, table lamps, and huge appliances are pushed back from the edge so that they're out of the reach of children. Place free standing items such as floor lamps or fans in corners.
Never leave dresser drawers open; kids can use them as ladders! Furthermore, fill the bottom drawers of cabinets and dressers with heavier stuff so that the furniture doesn't topple over easily.
Furniture with sharp corners is particularly dangerous. Use bumpers to cover all sharp edges and corners.
Keep Cabinet Doors Locked
You'll be storing a lot of important stuff in your drawers and cabinets. Most importantly, you need cabinets and drawers to store medicines, household cleaners, knives, and other things that can be dangerous to kids. You can't keep your eyes on kids 24/7 so precaution is always better than cure.
Make use of safety latches and locks on all cabinets and drawers. Choose ones that are strong enough to withstand pulls and are easy to install.
Install Safety Gates
Installing safety gates at the head and foot of stairs can prevent children from falls and injuries. They can also be used to keep children from entering rooms and certain areas.
It is important to purchase safety gates that meet current safety standards. Remember to buy gates with bars that are appropriately spaced; you don't want to buy a safety gate with bars wide enough to let your kid pass through!
Also, avoid old safety gates with 'V' shapes as your child could get his head and neck trapped in them. Additionally, buy safety gates that cannot be dislodged by kids but can be easily used by adults.
Furthermore, to prevent children from entering rooms with possible dangers, you can use door locks and door knobs. Look for ones that are sturdy but allow doors to be opened by adults quickly in case of emergencies.
Secure Windows
Always keep windows locked so that children can't open them. If you have double-hung windows, open them from the top. Use window stops on lower windows so that they can be opened only up to 4 inches.
Window screens won't help prevent falls as they are not strong enough. Window guards with bars no more than 4 inches apart are a lot better when it comes to preventing mishaps. They can also be adjusted to fit windows of different sizes.
Do remember to keep furniture such as tables, chairs, and dressers away from windows so that children cannot climb up and reach the windowsill.
Eliminate Choking Hazards
Children need to be kept away from a number of items like cords, wires, small toys, etc. as these things can cause choking. Make sure there are no loose wires or cords around the house and if you do find any, secure them with cable ties.
Window blinds and curtains should not have looped cords as they can be strangulation hazards. Cut cords short or make use of safety tassels and inner cord stops to prevent mishaps.
Furthermore, make sure you don't leave chains, bracelets, earrings, cuff links, etc. outside. Children are bound to be attracted to these items and put them in their mouths. So keep all your trinkets inside drawers or make use of accessory hangers like the ones available on OnlyHangers.
Don't Forget the Outdoors
If you have a garden or backyard, make sure it is appropriately fenced so that children do not venture outside. Make sure you don't leave gardening tools and lawn mowers out in the open. These things should be kept locked inside a shed or a garage.
If you have a grilling area, ensure that kids can't get there too. Be especially careful when grilling food and even after the fire is put out.
Childproofing the swimming pool is the most important thing to do. You can do this by installing a 5 ft high fence around the perimeter of the pool. The fence should be fitted with a safety lock that kids can't open but can be opened by an adult quickly in case of an emergency.
A pool cover can be an added advantage. Keep it closed when the pool is not in use, and don't let water accumulate on the top of the cover.
Conclusion
Childproofing a house is necessary for toddlers as well as young kids. True, it seems like tough work but once you get the job done right, you can relax knowing that there's nothing that can harm your precious ones.
Now that you know these easy tips on childproofing your house, don't wait! Get started on childproofing your house as soon as you can.