Disclosure: This post may contain affiliate links, meaning we get a commission if you decide to make a purchase through our links, at no cost to you. Please read our disclosure for more info.
A baby shower is a wonderful tradition where the mother-to-be gets gifts for both her and the baby. There are many types of baby shower gifts that seem to show up all the time like baby clothes, diapers and baby books, but what if you want something more creative?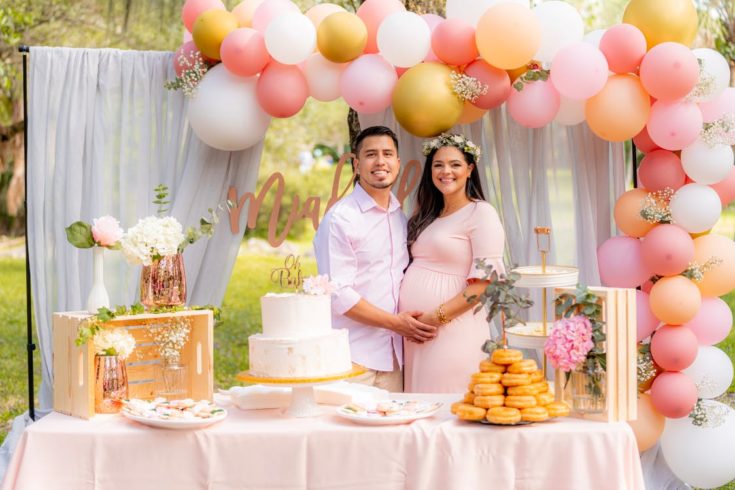 Here are five creative baby shower gifts that are sure to please the mother-to-be:

1. Diaper Cake
Diapers are a traditional baby shower gift that can turn into a very creative option if you do it a bit differently and present it in the form of a diaper cake. No, this isn't the kind of cake that you eat, it is actually a gift made of diapers and other baby products that is presented in the shape of a tiered cake.
Stack up some disposable diapers or cloth diapers to make the shape of a cake. Then, decorate with little colorful baby toys, some cute little baby socks, a pacifier, or other little baby items that can be arranged onto your "cake."
2. Gift Basket of Baby Products
Another creative baby shower gift is a gift bag full of baby products. You can use a diaper bag, a pretty basket, or perhaps a baby bathtub and fill it with baby products such as baby lotion, shampoo, feeding spoons, pacifiers, nipples, etc. You could do a theme like baby's bath, or feeding time, or other ideas for products to include. Add a pretty ribbon and a few coupons for baby products and you have both a practical and creative gift idea.
3. Shaped Baby Wash Cloths
All new moms need wash cloths to clean up after their new babies. You can present them in a unique and creative way by turning them into shapes like lollipops, bunnies or flowers. Or, you can use them to add a finishing touch to a package by attaching a few on top of a wrapped gift.
As an example, if you made baby wash cloth flowers you just roll up several of them tightly and fasten it together with some baby pins, then tie a ribbon around them to make it like a bouquet. Take a few others and fold them up lengthwise and then roll to make it look like a flower head. Attach these to the "stems" with more pins. Voila! A cute washcloth bouquet! Be sure to use different colors to make it more special.
4. Breakfast in Bed for the New Mom
How about a basket filled with some things for the new mom to have breakfast in bed? Get a cute basket filled with foods like muffins, gourmet tea or coffee, little boxes of cereal, a pretty mug, etc. Add in some coupons for eating breakfast or dinner out too and make it extra special.
5. Towel Cake
Just like the diaper cake, you can make a fake cake with baby towels, bibs, and baby wash products. Just take a few baby towels and roll them up and tie together with some cute ribbons to form a round shape for your first layer. Then, adorn it with some sample sized baby powder, baby lotion, baby oil, etc.
Baby showers and the arrival of a little one can lead to an abundance of beautiful, yet unwanted or duplicated gifts. Instead of the options above, opt for a gift card. You could choose something original, like a
gift card for a custom neon sign
, or opt for a baby or grocery store voucher, so the parents can choose something they need.