Disclosure: This post may contain affiliate links, meaning we get a commission if you decide to make a purchase through our links, at no cost to you. Please read our disclosure for more info.
Easter is the perfect excuse to add a dash of whimsy to your sweet daughter's attire. It's also become a much more widely celebrated holiday that includes lots of yummy candy and parties, so take some extra time to plan out the perfect Easter look.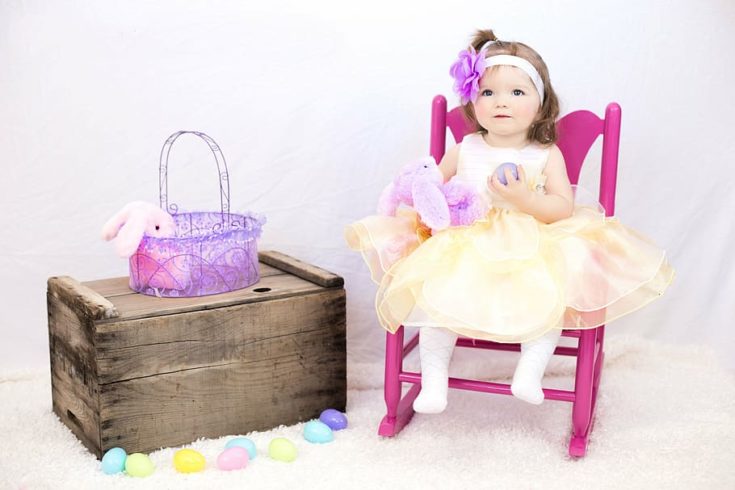 We listed out some adorable ideas for outfits and hairstyles to make your little bunny feel extra special!
1. Go Classic
A twirl dress is comfortable, stylish, and beautiful on any girl. And the best part about twirl dresses—each one comes with pockets! They are the perfect size for her to hold anything she needs or afford her a comfortable place to put her little hands.
The flair and volume of twirl dresses give her just the right amount of weight in the fabric that makes it perfect to spin and twirl to her heart's desire. Find a dress in the right color scheme and have her help you plan out the rest of the look based on the beautiful dress of her choosing.
2. Go Royal
What girl doesn't love a good, romantic princess dress? For your daughter's Easter outfit, you could clad her in something frilly, glittery, and sparkly. You could go with a princess look that is similar to your little one's daily look, or try for something totally different maybe even using little wigs or hair extensions!
Holidays are much more fun to spend with kids around, so why not go all out? YouTube is a great resource for hair and costume tutorials. You can find a lot of the ideas and materials for practically free! Either way, you can't go wrong celebrating your girl for the princess she is!
3. Go Quirky
You could take a different approach using a play on words. It could be a pun using candy references or iconic Peeps bunnies. It's the perfect time to take a little extra care into what they are wearing for the day and how they will look. Plan out their outfit based on their personality and use it as a way to showcase it.
4. Subtle Options
For the girl who doesn't love to do any of these options, you can consider a more subtle approach. Find a shirt with a bunny or chick on it for her to wear. She can wear it with leggings, jeans, or shorts so it's like her regular outfit but with an added splash for Easter. She'll be glad that she can still run around and play on the playground without having to worry about messing up some nice clothes or her hair.
Children love Easter, and it's a beautiful day to celebrate in all forms. Whether it's with a festive braid in her hair, spring colors scheme, or dressing up to twirl and sparkle to her heart's content, you can help make her Easter special for her. Help your little one feel extra special by planning out an outfit and look to make her day even better.