Disclosure: This post may contain affiliate links, meaning we get a commission if you decide to make a purchase through our links, at no cost to you. Please read our disclosure for more info.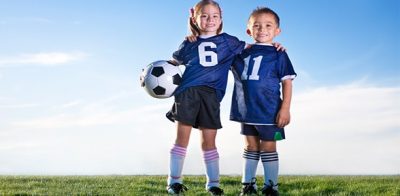 There are endless ways in which sports benefit people. There are the obvious, physical benefits, such as strengthening of the muscles, better shape of the respiratory, cardiac and even digestive systems of your body and many more. On the other hand, there are some psychological benefits, as well. You build higher self-esteem; you can fight off depression and anxiety and you learn tons about effort and discipline. All these things are what you want for your child. However, some children are not that easy to motivate to do sports. Here are some tips on how to help them and make sport an integral part of their lives.
Choosing the Sport Carefully
Luckily for everybody, there are tons of sports to go around. Water sports, group sports, individual sports and even some games are available to everybody. Therefore, show them to your child and pick a sport that they really like. It is important that they have a say in it and that the sport is their choice. Sport means hard work, and your child is more likely to stick to it if they like it. Otherwise, it will be just one more chore to make them miserable.
Picking Out the Group They Like
Once you have the sport picked out, you need to find a place and a group to practice it with. Some of the groups can be completely wrong for your kid and they can put your kid off. Perhaps, for just 15 more minute of driving, you will be able to find a group that your kid absolutely loves. Making friends and socialization are a big part of practicing sports, so make sure your kid loves their buddies there. It will make them rush to the practice each and every time.
Have them 'Click' with the Coach
Another thing that is really important is the coach. Athletes make truly special bonds with their coaches, especially their first one. That is the person that can motivate or completely ruin the sport for your child. If they 'click' and get along well, only the sky is the limit. Therefore, listen to other parents, read recommendations and find a cool coach that your kid loves.
Involve Treats and Milestones
Some children take more time to get to love sports than the others. Make the practice day their favorite day by involving treats and milestones. For example, include a field trip or a trip to a theme park after every second practice. Promise a new, shiny soccer training equipment after each milestone – like the first goal. It will make practice more fun and more structured. Also, it will give your young one a sense of accomplishment that is usually just the thing to get them hooked.
Do Not Put Pressure
Children want discipline, but they are not crazy about big pressure. That will only put them off. Introduce sports like something that comes naturally within their week and not a chore that simply must be done. Make it fun and interesting and do not compare your kid to the others. Leave the iron-clad discipline reinforcement to their coach and be their support.
Children love their parents and they look at them as their role models. Therefore, if you really want to make your young one an athlete, show them the benefits of sports of your own example. Be physically active and participate in some sports yourself. That will make the sports something that everybody does and it will come naturally to your child. Also, it can become a joint activity and a new opportunity for some quality time together.