Disclosure: This post may contain affiliate links, meaning we get a commission if you decide to make a purchase through our links, at no cost to you. Please read our disclosure for more info.
Most children begin potty training between 18 months and 3 years of age. As your child starts growing up, you're bound to travel. Unfortunately, potty training on the go isn't as easy as most would hope.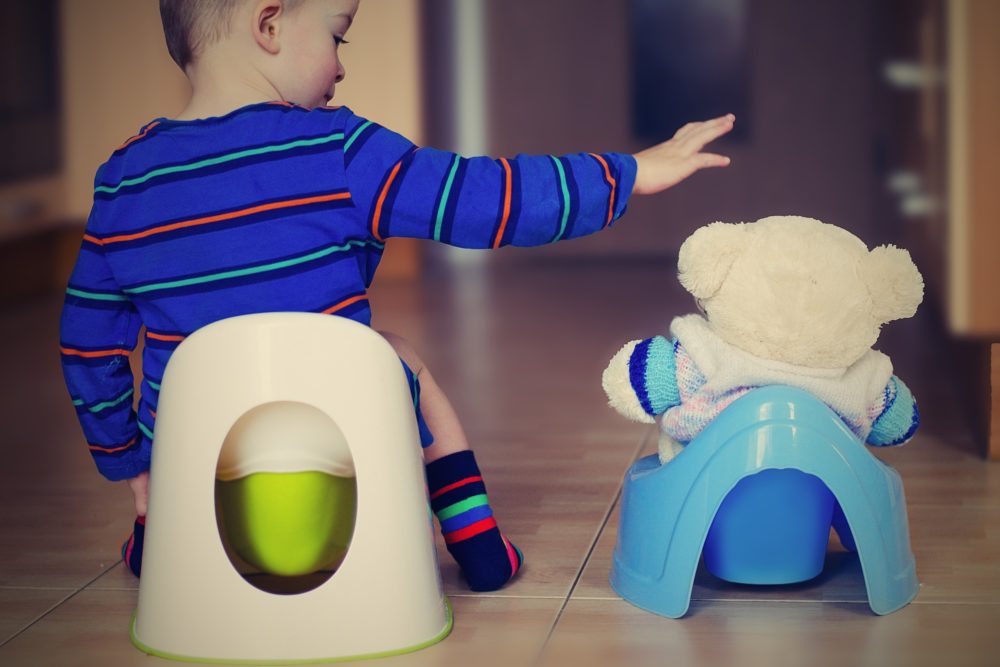 Don't turn potty training into a stressful situation!
Instead, use these five potty training tips while you're out and about. With these tips, you can help your child reach this incredible milestone.
Meanwhile, moms and dads can take a breath knowing they have a plan before they start traveling.
Discover the easy way to potty train with these tips today.
1. Set a Schedule
First, take a look at your travel plans. Are you traveling by car, plane, or taking a cruise? The method of travel you choose can impact your potty break schedule.
Planning ahead can make potty training on the go easy and stress-free.
If you're taking a car, plan for frequent bathroom stops along your route. If you're taking a plane, ask your child if they need to go every time you pass a bathroom. That includes reminders while you're on the plane and at the airport.
If you're taking a cruise, make sure you have a map handy. Where are the nearest bathrooms located?
Each time you stop somewhere to rest or relax, look around. Make sure you know where the bathroom is just in case your child needs to go.
It can also help to set an alarm on your phone. Remind yourself every 30 minutes to check on your child. Ask them if they need to go to the bathroom.
It's easy to get distracted, especially while you're traveling. Setting a schedule in advance and checking in with your child frequently can help you prepare.
If you're worried about finding a potty on the go, treat traveling like bedtime. Keep your child in a diaper while you're en route.
Once you've arrived at your destination, remove their diaper and remind your child to let you know when they need a potty break.
2. Have a Game Plan
As you use these potty training tips, make sure you and your partner are on the same page about the game plan. If you're a single parent, no problem. Having a plan will still help you minimize stress while ensuring your child has the attention they need.
First, remind your child that it's important to go to the bathroom before getting into the car for a road trip. Try to encourage them to go before buckling up.
Tell them that you can't leave until everyone's gone (including yourself).
If you're using a public restroom with numerous stalls, make sure to stay close to your child. When your child is old enough to go into a stall alone, make sure to stay guard outside. They might call on you for help.
Your presence could also keep them calm while in a foreign environment.
3. Use Incentives
Keeping incentives within reach can also help throughout the potty training process. It's important to pack these incentives before your trip. Otherwise, your child might expect something more expensive while you're on the road or at the airport.
Little incentives can include stickers, bubbles, coloring books, or tiny toys. Choose incentives that you know will encourage your child.
Considering giving your child two incentives each time they use the potty on the go: one for using the potty and one for washing their hands.
It's more important now than ever to keep germs at bay. Have your child sing "Twinkle, Twinkle, Little Star" while washing their hands to make sure their hands are clean.
Don't forget to use public toilet covers for toddlers when you're traveling.
4. Prepare for Accidents and Emergencies
Most children are ready to leave their diapers behind between ages 3 and 4. Unfortunately, accidents and emergencies can happen. While you can't always prevent an accident, you can prepare for it.
First, make sure to pack the essentials during your trip. These can include:
Pull-Ups
Wipes
An extra change of clothes
Hand sanitizers
Soap
Towels
Your incentives
You never know when you'll end up at a rest stop that's out of soap and paper towels. Meanwhile, the hand blowers are usually at face-height for youngsters. Having paper towels handy will ensure they can dry off without getting scalded or scared.
Make sure to use a paper towel when turning the door handle as you leave, too.
If you have a long road trip ahead, consider taking a portable potty seat with you. For emergencies, you can stop by the side of the road and help your child go potty. These tips for helping your child when using a porta potty might come in handy, too.
5. Have Fun
Some small children find the bathroom scary. The loud, automatic flush in an airport bathroom isn't exactly soothing. If your child is afraid of the toilet, find different ways to ease their fears.
Make potty training on the go fun for your child by singing or playing pattycake while they're on the toilet. You can also hold their hand to keep their attention on you.
When your child successfully uses the potty on the go, verbally reward them.
Let them know how proud you are that they're reaching this milestone. They'll take notice and want to make you proud in the future.
Moms and dads, take a breath. Remember, this is an exciting time for your child. If you're frantic about boarding flights and staying on schedule, your child will notice.
You don't want them picking up on your haste or fear.
Instead, take a deep breath and focus on the step your child is taking (one flush at a time).
Potty Training on the Go: 5 Tips to Keep Remain Stress-Free
Potty training on the go doesn't have to feel like a stressful experience for you or your child. Instead, keep these five tips in mind when you're out and about. With these tips, you can help your child reach this important milestone and help them remain hygienic.
Searching for more helpful tips? Explore our most recent articles and guides today!