Disclosure: This post may contain affiliate links, meaning we get a commission if you decide to make a purchase through our links, at no cost to you. Please read our disclosure for more info.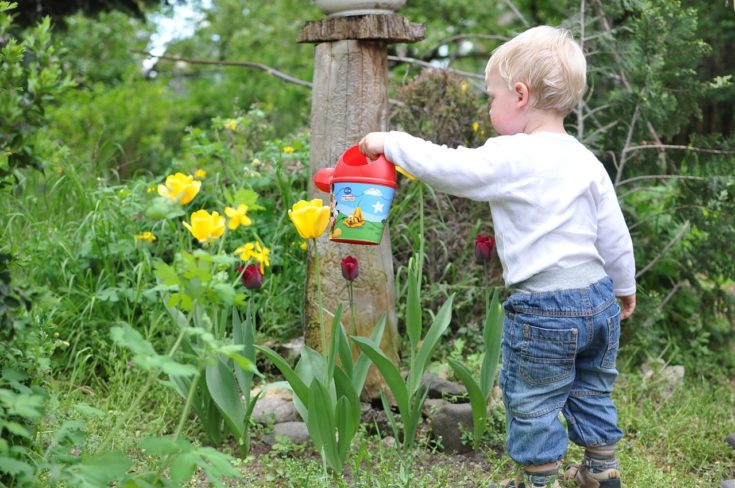 If you want your children to grow up with an interest in gardening, it's never too early to start teaching them! While you may delight weeding your garden, your kids probably hate doing gardening chores which take away their summer time.
It's time for you to plant fresh ideas in your kids' minds. Gardening is far more beneficial to them than many other activities which have sadly become commonplace.
Here are a few easy ways to get your child interested in gardening.
Make Gardening Exciting and Fun
Children are amazed by pretty much anything interesting or even mildly gross! By making them realize the captivating and odd things they will be doing while gardening, they will yearn for it more. In all your gardening plans, work out the fun angle to keep the child's interest engaged.
Tip: Safety equipment like gloves and protective glasses should be used.
[amazon_link asins='B002C11IIS,B000FJQLTA' template='CopyOf-ProductGrid' store='preemietwinswp-20′ marketplace='US' link_id='d047e2ba-5600-11e7-b602-81645cab80e8′]
Give Them the Right Kit
To make gardening fun for kids, you need a set of tools made just for them, the colors and size arouse their interest and the tools are conveniently weighted for them. Though not essential, colorful tools make it easier for kids to join in. Gardening gloves are available in a wide array of colors and patterns.
You should:
Teach your kids the importance of cleaning tools after use, this should be fun and easy too.

Get him/her a pretty, child-sized watering can. Your kid will be more encouraged to keep growing plants and watering them.
[amazon_link asins='B00SUSUVSK,B00270YD22′ template='CopyOf-ProductGrid' store='preemietwinswp-20′ marketplace='US' link_id='eeab4598-5600-11e7-8f58-57080473cad6′]
Make Wildlife Part of the Child's Gardening Experience
A bird feeder, bird bath, and feeders for other animals such as possums, hedgehogs, and squirrels make your gardening space an interesting and mysterious place for your kids! If you have extra space to spare, why not throw in a miniature fish pond? 
[amazon_link asins='B0019MQD72,B00NAQ8SNW' template='CopyOf-ProductGrid' store='preemietwinswp-20′ marketplace='US' link_id='0744932c-5601-11e7-aa97-5b7ccdba5af3′]
The experience of seeing such a variety of wildlife will make your kids fall in love with the outdoors. In addition:
Educate your children on the dangerous animal that shouldn't be attracted to the garden. Teach them about the useful role animals play in gardening.

If your garden is larger, you can have more pets like sheep, goats, pigs, guinea pigs, and rabbits.
Craft Interesting Things for Your Garden
Children are happiest when they put their wild imaginations and restless hands to use. Get as crafty as you can with them, ensuring maximum safety every step of the way. There are many things in your yard that could be recycled, repurposed, and remade to serve a purpose in the garden.
The many possibilities include:
Making bird feeders

Designing the garden plan

Using waste tires as plant protectors or garden beds

Using pebbles, beads, and shells to make dangling décor

Using iced confectionary sticks to make plant markers or herbs
Acknowledge That the Digital Era Has A Place in Gardening
Kids and all of us in extension love their electronic gadgets and computers; sometimes, it is hard to get them off these. As a wise parent, you can use this affinity to their advantage. For instance, there are countless resources on the internet explaining about gardening and its benefits (like this article).
Other tools like the gardening calendars make it easier for your kids to find gardening plans. As they grow up, they will definitely keep on using this resource. The internet is also an enormous library that can help them in gardening at every stage.
Continue Gardening Even With the Change of Season
Your kids can enjoy the benefits of gardening through all seasons. Breaking this cycle might lead to them losing interest every time they have to start over. During winter, you can bring gardening indoors by focusing on plants which thrive in indoor environments. Ideal project choices would be a window box, an unused fish tank, a small herb garden, and a windowsill planter.
Tip: For an incredible table centerpiece, help your kid grow a flower in a bottle, the tasks involved will be beneficial to you both!
Getting your children interested in gardening is the easy part; you will have to keep adjusting your methods as they grow up, adding new fun ways to enjoy this beneficial activity together. Just as you enjoy health benefits from gardening, your kids stand to gain a lot too! Are you ready to get started?
Did you find this piece enjoyable and useful? Kindly share on your social media platforms, your friends can join in too. If you have any questions or comments, don't hesitate to drop us a note. Our happiness is in sharing our gardening passion with you. Cheers!
You can find Garden Supplies for Kids for the best price on Amazon.