Disclosure: This post may contain affiliate links, meaning we get a commission if you decide to make a purchase through our links, at no cost to you. Please read our disclosure for more info.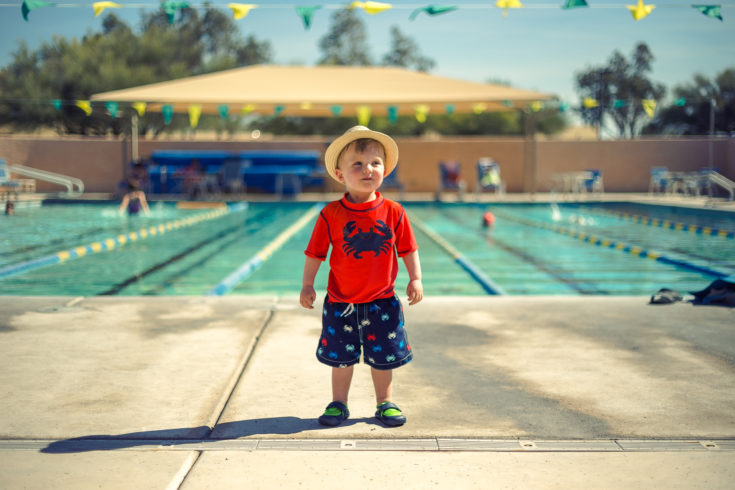 Swimming is not only great exercise, but it is also a fun way for kids to play and release energy. By teaching your child how to swim this summer, you can enjoy many hours together at the community pool, beach or at a hotel resort. Keep these four tips in mind when planning how to teach your toddler to swim during the upcoming summer.
Playing Games in the Pool
Playing games in the pool with your toddler helps to provide a sense of confidence and comfort in the water. One fun game to try is catching the "fishies." In the shallow end of the pool, at a depth of 12 to 24 inches, place some water toys such as rings or toy fish. Have your toddler reach in to catch them. This gets your child's face and head wet, which can be one of the scariest parts of learning how to swim. Another fun game to try in the pool with your toddler is the alligator game. Situate your child on the edge of the pool. Your child should stand and jump into your outstretched arms. Remember to have your child jump feet-first. Head-first diving should not be allowed in any pool when your child is learning how to swim.
Practicing Arm Movements and Kicking
Practicing arm movements and kicking help your toddler to build the muscle strength and coordination that are needed for swimming. To do the kicking, have your child hold on to the edge of the pool with his or her hands. Your child's body should float on or just below the surface of the water, Have your child kick under the water with both feet, as if he or she were running under the water. Have your child turn around with his or her face looking at the sky and kick his or her legs while floating. Make it fun by seeing how wet your child can get you. To practice arm movements, have your child push him or herself from the edge of the pool and move his or her arms in a motion such as to pull water toward the body.
Taking Swimming Lessons
Swimming lessons offered by certified instructors are an ideal way to teach your toddler how to swim. If your child is not good at listening to your directions or enjoys being around other kids, swimming lessons for toddlers are a great option. Instructors are experienced at teaching kids the basics of swimming. They will be patient as your child becomes comfortable with the water. Many swimming lesson programs are tiered based upon your child's skills. As your toddler advances, he or she can move up and learn more skills for independent swimming. Your child will also learn important water safety lessons in a swimming class.
Practicing in the Safety Water
An important part of teaching your child how to swim is practicing water safety. If you have a pool at home, make sure that it is covered when not in use. Only allow your child to go into the pool with your supervision or when another responsible adult is present. Do not engage in any distractions while watching your child in the pool. Avoid using your smartphone or stepping away, even just for a moment. Install a perimeter fence and locked gate around your pool. Consider a pool alarm. When visiting someone's home where there is a pool, keep your eyes on your child.
Learning how to swim is an important life skill. By starting your child early, he or she can become a strong swimmer. These tips will help to keep your child comfortable, confident and safe in the pool this summer.