Disclosure: This post may contain affiliate links, meaning we get a commission if you decide to make a purchase through our links, at no cost to you. Please read our disclosure for more info.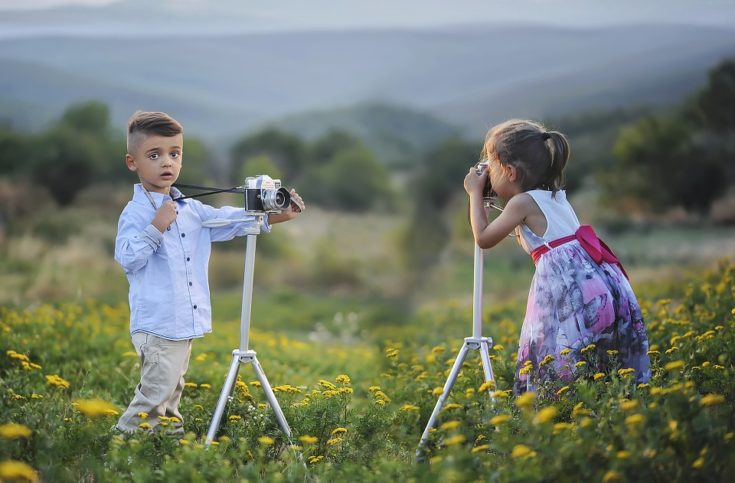 Every parent wants to capture their child's special moments on film, but even talented photographers can struggle with getting timeless shots in the hectic atmosphere of a kid-centered event. It doesn't take a ton of money or specialized photography skills to improve the quality of pictures and video. Whether you want to document a baby's first steps, the first day of school, prom night or a high school graduation, these four tips will help you create a timeless artifact of your child's big day.
Get super cute clothes for your kids to wear during their photo shoot at Iza Marie Bella, an online baby and toddler clothing and accessories boutique.
Scope out the Area Ahead of Time
Any professional media producer will tell you planning ahead is 90% of the work. If possible, arrive early to the location and get a sense of your space. Where are your light sources, and what seats will give you the clearest sight lines without blocking other parents in the audience? Take a few test shots to look for potential framing and lighting options so you know what to expect when the big moment comes.
If you plan to shoot video, use a tripod to ensure stability. Look for a place to set up your tripod where you won't be bumped or blocked. If you want to have high quality audio, use test footage to find a place without wind or other ambient noise that might drown out the speakers you want to document.
Choose the Right Gear
Capturing a live event on camera means you only have one chance to get the shot you want. Adding in the quick movements and unpredictability of children, and you'll need specific equipment to avoid blurry footage or a broken camera. Use a camera with an adjustable ISO and become familiar with the settings ahead of time. Using a high shutter speed will allow you to take multiple shots while your child is kicking a goal or grabbing their diploma, so you'll have choices between shots later. If possible, invest in a quality zoom lens or an upgraded microphone so you can get clear shots and record every adorable syllable of baby's first words.
Special moments can happen at any time, and some of the most memorable events in a child's life are the unexpected ones. Be ready for the moment by keeping your gear close and protected in a good travel camera bag. A lightweight but durable material will be easy to carry on both casual outings and formal affairs will keep your camera safe even at sporting events or concerts.
[amazon_link asins='B00PV0IEDY,B01JOVOJM0′ template='CopyOf-ProductGrid' store='preemietwinswp-20′ marketplace='US' link_id='806ee8de-ec45-11e7-b930-7d6cf52e7d01′]
Meet Them at Their Level
An image of the top of a child's head may be cute, but is likely not the memory you were trying to capture. Shifting your position to get down at child level allows you to capture the fleeting smiles, the chubby hands, or the movement of their violin bow in action. Practice dropping into a crouch or setting up your camera height a few times a year- as your child grows or begins a new activity, you may find you need to get into different positions.
For special events, plan ahead for what kind of images will be most valuable for you and what height will best frame your shot. If you want an action shot of a sporting event, for example, you may want to be at pitching height or even lower to watch their feet in action. If you're focused on a spoken performance, you want to be filming level with your child's face.
Stay in the Moment
It can be easy to get carried away with the technical elements of documenting a special moment, so don't forget to be a part of the experience! Having a great picture to commemorate the day will be a special memento but your child's memory should be of a proud parent sharing the moment, not of a documentary film crew. Grab a couple of good shots, and then put the camera down.
Anyone can document a child's special moments, but a little planning and preparation can help you create powerful images or videos that will last for generations. No matter how your photos turn out, your memory of your child's accomplishments will always be in clear focus.