Disclosure: This post may contain affiliate links, meaning we get a commission if you decide to make a purchase through our links, at no cost to you. Please read our disclosure for more info.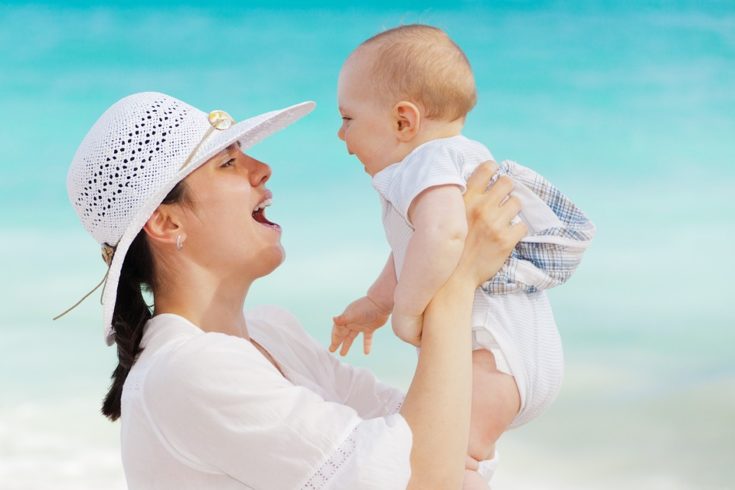 As a new mom, all of your attention, energy, and focus is given to your new bundle of joy. It seems as though you are constantly on the go and busy with your baby. What this means is that your own needs usually get forgotten about, as you tend to be the last on the list of priorities. One area where this is especially true is a new mom's wardrobe. Often she reaches for the most comfortable items she owns, which may not be the most stylish or flattering.
If you are guilty of wearing the same jogging suit on a regular basis, and you've come to the realization that your wardrobe is in need of desperate help, then you will want to read on. Here we'll take a look at some ways new moms can inject style into their wardrobe without having to sacrifice comfort. We'll take all the guesswork out of it, so you can just pick up a few key pieces and look put-together, trendy, and comfortable all at the same time.
Leggings – a New Mom's Best Friend
When it comes to a staple in a new mom's wardrobe, leggings are usually top of the list. While there is absolutely nothing wrong with reaching for a pair of leggings, you want to be sure you're picking a pair that flatters you and offers enough support. Some leggings are made of a very thin material that doesn't do a good job of retaining its shape and color, and can even be a bit see-through, depending on the material.
Instead, it's a good idea to head to the athletic department of your favorite store and take a look at the athletic style leggings. These leggings tend to have a better-quality material that is able to stretch as you move but bounces right back to shape. They also tend to stay in place a little better, so you won't be tugging them up each time you bend over.
Leggings work perfectly paired with a tunic, long cardigan, or a loose fitting tee. They can be paired with runners, sandals, or even tall boots depending on the look you are going for. Look online for a great selection of women's garments, including athletic leggings that are ideal for new moms.
[amazon_link asins='B0752TS3RM,B078KTLJ2X' template='CopyOf-ProductGrid' store='preemietwinswp-20′ marketplace='US' link_id='76dd0146-1bf6-11e8-9bca-83bfe0158cdf']
Invest in a Couple of Pieces of Shapewear
Have you ever wondered how those celebrities can have a baby and literally look incredible one week after? Sure, they have trainers and personal chefs working for them, but they also know the value of shapewear. Shapewear is able to enhance certain areas, make other areas appear smaller and tighter, and just create a smoother, sleeker line.
What's great is that many manufacturers are now making shapewear right in the clothing itself. For instance, you can purchase tank tops, leggings, and jeans that have shapewear built in.
[amazon_link asins='B074TTXYSP,B01H6DGE3K' template='CopyOf-ProductGrid' store='preemietwinswp-20′ marketplace='US' link_id='82b5b09b-1bf6-11e8-a0f2-db2b3f0b505d']
Boho is Your New Best Friend
When it comes to a style of fashion that is extremely forgiving and comfortable, you can't beat what Boho has to offer. The Bohemian or Boho style of clothing is made up of loose-fitting, flowing fabrics that feature a lot of draping, patterns, and prints. These are extremely flattering as they can hide those areas you feel self-conscious about, and they won't be clinging to you while you're busy on the go with your little one.
[amazon_link asins='B071ZMDVCG,B072392BXT' template='CopyOf-ProductGrid' store='preemietwinswp-20′ marketplace='US' link_id='8e485586-1bf6-11e8-b6ec-83a372bcb35b']
Ditch the Skinny Jeans for Now and Opt for Bootcut
We all know how popular skinny jeans are, and the fact they are flattering on my different body shapes, but for a new mom, skinny jeans can be an absolute nightmare. While you don't want to go and get rid of all your skinny jeans, you may find it better to pick up a couple of pairs of bootcut style jeans instead.
This style is universally flattering and can be found in every wash imaginable. Bootcut does a great job of balancing your body shape, which is perfect for new moms who are still carrying a bit of baby weight. As well they provide a little extra comfort since they aren't skin tight. You'll be able to move around with ease and not have to worry about readjusting your jeans every couple of minutes.
[amazon_link asins='B01MYMGBKO,B075T8RXGW' template='CopyOf-ProductGrid' store='preemietwinswp-20′ marketplace='US' link_id='9df14711-1bf6-11e8-9e01-8beccfc5b866′]
Step Into the Role of a Stylish Yet Comfortable New Mom
These tips are designed to help you step into the role of a stylish yet comfortable new mom, allowing you to achieve that perfect sense of fashion balance.