Disclosure: This post may contain affiliate links, meaning we get a commission if you decide to make a purchase through our links, at no cost to you. Please read our disclosure for more info.
The fact is that kids like to play outside. Unfortunately, not everyone of us can afford to drive them to the nearest park when they need to play, or constantly keep an eye on them once they are there. Spacious backyard seems like a good enough alternative, but then again, flowers, sheds and garage, are not too stimulating play environment. Let us see than how we can turn our backyards into the playgrounds and put an end to these troubles.
Wooden Fortress
This little DIY project will put your carpentry skills to a test, but you will surely manage to pull it off without breaking too much sweat. Essentially, you will just need to make large single story (or two story) wooden platform and decorate it to reassemble medieval castle. Attach a few ladders, make a few holes in the floor through which your kids will be able to climb up, add one zip line and the siege can begin.
Treehouse/Backyard Tents
All kids need some kind of special place where they will spend some time with their friends and plot their juvenile plans, and treehouse seems like a perfect place. Again, carpentry skills will be needed, but this time challenge will be not that much in the construction but in building height. If you do not have a large enough tree you can always make your kids few sturdy backyard tents, and allow them to move from medieval to more "western" setting.
A Hopscotch Game
Unfortunately, not every backyard has enough grass to make these settings safe. If this is case with your yard, you can always paint your concrete surface with permanent hopscotch games, various mazes, creatures, and if you are feeling really creative even an entire "Snakes and Ladders", and "Sorry!" layouts. Those painted playgrounds look even better seen from above. You can record from that perspective simply by installing multinational game camera on a nearest tree.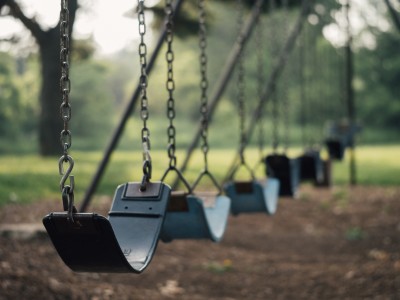 A Swing
Nothing can beat a good swinging, and fortunately, to make a swing you do not even need some expensive materials. As for the frame you can go either with wooden or metal options (although metal will prove to be more durable if your area is exposed to elements), and for the seat you can just use the simple tire hanged on chains. More ambitious parents can try to make classic chairs with protective bar affront, while the most patient ones should try their luck with several seats.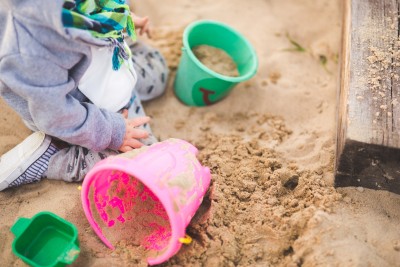 Sandbox
If you are living far from the sea, you can always grant your kids a little bit of beach flavor with sandbox and inflatable swimming pool. The very sandbox is rather easy to build – Just make a wooden frame (or the concrete one if you want to make a permanent construction), cover the ground with some material which will hold the sand off the ground, get a parasol, and voila, you have your beach setting.
Climbing Wall
If your backyard is surrounded by a tall fence, you can cover one of its corners with wooden panels and upgrade them with few grips so you and your kids can climb on them. Both of you will get a perfect exercise, but make sure that you are safe and that there are always enough mattresses on the ground before anyone starts climbing.
The fact that you are living in a city does not mean that you cannot delight your kids with their own personal Neverland within the urban environment surrounding them. Sure, your DIY muscles will have to be worked out, and maybe you will not be able to make anything you want on your first try, but with enough practice you will be able to make their dreams come true.