Disclosure: This post may contain affiliate links, meaning we get a commission if you decide to make a purchase through our links, at no cost to you. Please read our disclosure for more info.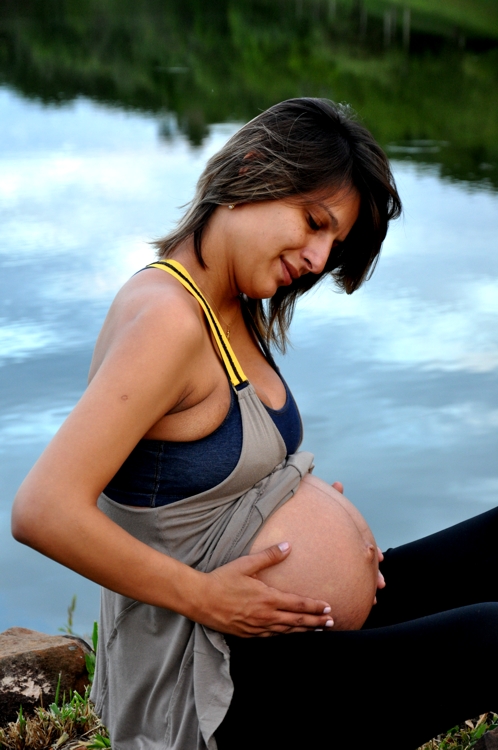 Every to mom-to-be knows that pregnancy can take its toll; with the growing bump making it difficult to fit into your favorite clothes, mood swings, morning sickness and not to forget the drastic changes that happen to the body. But why bemoan a few inconveniences when your body has just become a miracle of nature? If you're apprehensive about the transformation or worried that being pregnant means you'll "lose your looks", remind yourself that all these changes are happening for a good reason.
With that in mind, here are a few pointers to keep you looking and feeling your best during your pregnancy:
Stay active:
With the hormonal changes accompanied with pregnancy, feeling bloated and sick to the stomach is the norm. Even taking a 10-15 minute walk or doing a little yoga may seem like a challenge. However, exercise is strongly recommended during pregnancy for:
Increasing energy- builds up endurance to help manage the extra weight and prepare for the physical stress of labor

Improving posture

Encouraging flexibility and suppleness- promote muscle tone, strengthen joints, improve circulation in legs

Stimulates breathing

A positive pregnancy and also make it much easier to bounce back after the baby is born
Swimming, aqua aerobics, or joining a prenatal class may be ideal choices.
Take care of yourself and your skin:
Be especially mindful of your diet and fluid intake to keep healthy and avoid constipation. It is important to maintain a healthy weight gain during pregnancy lest it may cause complications later on. Talk to your doctor about any concerns you may have and also have your vitals checked regularly. You may need to consult a therapist if you're anxious about health complications, or a history of an eating disorder, or any other condition.
Pregnancy hormones can wreak havoc on your skin. Your complexion may look great due to the pregnancy glow or you may experience skin troubles like a teenager. Your skin may become drier or too oily, blackheads appear, or darkened skin spots (Melasma), also known as 'mask of pregnancy' which gradually fades after pregnancy. Consult a dermatologist for effective home remedies, over-the-counter products or medication that is safe to use during pregnancy.
Avoid exposure to the sun and always use a broad spectrum sunblock with SPF 30 or higher. The sun can encourage the appearance of brown spots and stretch marks. Gently massage coconut oil or a stretch mark cream on your belly and breasts. Wear an appropriate supportive bra without under wiring.
[amazon_link asins='B0010ED5FC,B00OTZ28DE' template='CopyOf-ProductGrid' store='preemietwinswp-20′ marketplace='US' link_id='7d3c54db-d2dd-11e6-920f-21aaf8ec9921′]
Exfoliation and using a hydrating mask to deeply nourish the skin are also helpful. Make up can do wonders, and can greatly lift your spirits. Try out a new shade of lipstick, eyeshadow or go for a complete makeover.
Maintain the right posture:
As your center of gravity shifts, you may have difficulty maintaining your balance, and may also develop a backache. Keep your hips and knees at right angle-use a stool or foot rest for support. Pelvic tilting can ease back strain caused by standing or sitting for too long in one position. Be extra cautious while picking up an object from the floor and getting out of bed. Ankle swelling compressors and a maternity back brace are a great help.
Pamper yourself:
Treat yourself to a manicure, pedicure, a facial or spa treatment to lift your spirits. A soothing massage, a date night with your partner in a new outfit can also be a big boost to your self-esteem.
Embrace your inner fashionista:
There is a fabulous collection of maternity wears available in which you can look cute and sexy. An empire-waist pregnancy dress is distinctly feminine and still accommodates your changing body.
[amazon_link asins='B00RD9GT3S,B01EMQC6FE' template='CopyOf-ProductGrid' store='preemietwinswp-20′ marketplace='US' link_id='c840e449-d2dd-11e6-8bb3-efda1538adf4′]
You can also add maternity jeans, tops made of stretchy materials and accessories like scarves, bracelets, hair ties to your wardrobe. Black or deep red loose roomy clothes, maternity wrap dresses or form-fitting outfits, whatever suits your taste, style and workplace are chic and comfortable. However, avoid high heels or stilettos, instead opt for shoes that offer support to the feet. Maternity support hose can greatly reduce occurrence of varicose veins and also support the tummy and back and keep your legs looking shapely.
Find new ways to bond with your partner:
It may not be possible to enjoy conventional sex, so this is a time to get creative. If the sparks have dwindled, keep the embers alive with cuddles, a back rub or massage. Let him attend childbirth classes with you and take him along for your appointments. The joy of seeing the baby's heart beating in the ultrasound is immeasurable.
Image Source: Flickr