Disclosure: This post may contain affiliate links, meaning we get a commission if you decide to make a purchase through our links, at no cost to you. Please read our disclosure for more info.
Learning how to dress your newborn is a concern for almost every mother. But here's the good news, more often than not your maternal instincts are right. It has almost nothing to do with fashion. But all you need are some basic guidelines and reminders, and you are good to go from there. Another good news is that for the first few weeks you do not have to worry about expanding their wardrobe. They are too busy getting to know you. All they need is comfort and love and some basic newborn baby clothing options. Because your baby will grow so much in the first few weeks, you'll fly through clothing fairly quickly – so don't get too caught up on the semantics of newborn baby clothing.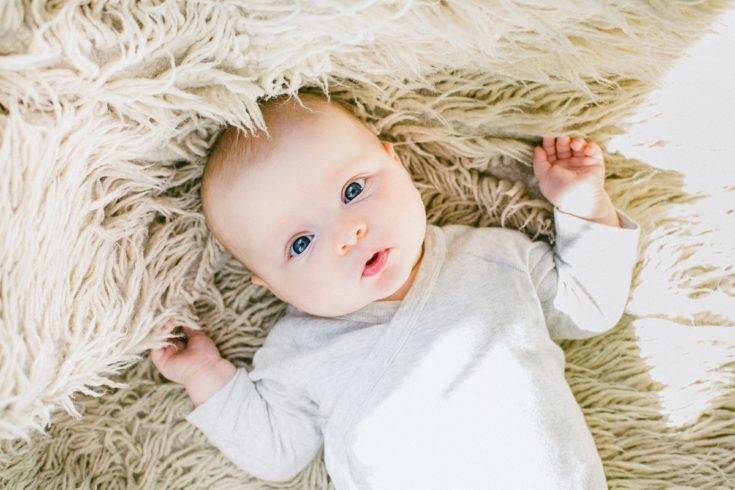 How can you make your baby as comfortable as possible?
Well, comfort for your newborn is relative, it depends on the occasion. The wrong attire for any event could have either negligible or severe (medical) repercussions.
Dressing your baby when preparing him/her for bed
While preparing the baby to be put to sleep, it is vital to keep in mind that less is actually better. Onesies are enough for them, with a swaddling blanket (for babies that enjoy being swaddled) or a sleep sack. As the little one turns around in bed, there is a large possibility that the hats and mittens. This exposure could leave the baby prone to sudden infant death syndrome (SIDS). So, if you are still interested in the mittens (in case the baby scratches himself/ herself) then get long sleeve onesies with already attached mittens.
Dressing the baby during the day
Simply start with the onesies, these are very appropriate for the little one. Why? You might wonder. Well, the little one is still getting used to the idea of not being stark naked. So the onesies are a bit free and serve as an excellent foundation in baby dressing. In as much as they are a bit free, they also maintain fixed positions while covering the baby`s tummy and back. Additionally, the snaps used at the bottom makes changing of diapers easier; also keeps you from having to totally undress the baby and inconvenience her. If you are not down with the onesies, then try wrap-style shirts, also cool because you can totally avoid having to pull off (or put on) the clothing over the baby`s head. Babies generally do not like that.
With the onesies serving as a base dress, then your footies come next. Adorable pants with already attached socks, footies also make socks or booties unnecessary. So now, you do not have to worry that the little one will kick off one leg off the pair of socks. When using footies, do not buy the exact baby size. Making it just a teeny bit larger will leave room for when the baby`s feet grow, this way the footsies last longer. Moreover, you could decide to turn them to pants at any point in time by cutting off the socks region and hemming.
Following the basic onesies and footies, the extra layers of clothing may come into play. I used "may" because this layering is dependent on the season. During the summer period, there is no need for the extra layers. You could decide to use long sleeve onesies in order to make the baby cozier. The long sleeve onesies could also serve to protect the baby from the environment and accidental scratches. After all, the little one`s immune system is still developing.
Meanwhile, during colder seasons (winter) if we are conflicted about how many extra layers would be appropriate, then look at yourself. For most babies whatever an adult is putting on in addition to an extra layer would be perfect. But since mom`s hormones are still hyper which could cause a misconception of temperature, use a different adult as a yardstick. That means if others are cool in a tee shirt, simply add a tee shirt on top of the onesie. If it is a sweater that people are putting on, then just add a sweater to the onesie and tee shirt. Be careful though, any trace of fussiness or sweaty back is evidence of over layering. Typically you can find newborn baby girls and baby boys clothing online from boutiques like Bitsy Bug Boutique and several other vendors that have affordable prices and pretty good quality.
Then you can consider accessories
Socks in the absence of footies and you want to go outside. Since their blood circulation is still slow, it takes time to get to the feet making the extremities colder than the adult. Legwarmers keep the socks attached (worn over the socks to make sure the baby does not kick it off. Definitely a skull cap, especially in the winter to prevent heat loss through the head (especially during winter). Oh and get a soft skull cap. Thin mittens, in case of cold and if baby scratches herself.
Finally, as long as the baby is not active and is in a stroller or is being nursed, a blanket is necessary. To keep away cold and germs also (immediately they are outside the hospital). Thickness could also vary based on weather conditions.
Dressing the baby for the car seat
This is quite easy. The onesie and a light blanket placed over the baby (after being buckled in). But be very careful not to the baby in a puffy attire in the car seat, it is not recommended. In case of an accident, the air between the baby and the coat could be dangerous. So during winters putting the blanket on top of the straps would be more advisable.
What about natural fabrics?
Well, no need to restrain yourself to only clothes from organic materials. Natural fibers are also cool as they help in regulation of baby`s temperature. These include cotton clothes or even bamboo clothes.
Moreover, endeavor to wash all new clothes as they might still carry chemical residues from their production. Also try not to use brightly dyed clothes having designs of characters (superheroes) as you do not know how sensitive the little one is, if at all.