Disclosure: This post may contain affiliate links, meaning we get a commission if you decide to make a purchase through our links, at no cost to you. Please read our disclosure for more info.
Providing a nanny for your child is an excellent way to ensure high-quality, private care. Having someone care for your child within your own home allows kids to remain in their environment even when parents are off at work and gives busy families the luxury of more flexibility. Because a nanny will be working extremely closely with your family and will have many hours of one-on-one time with your children, it's crucial to choose the right person to bring into your home. Use the following tips to ensure you choose the right nanny for your child.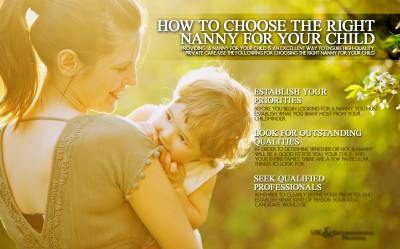 Establish Your Priorities
Before you begin looking for a nanny, you must establish what you want most from your childminder. Determine if your family requires someone full-time or part-time. You may only need assistance for a few hours daily or it may work better for your household to hire a live-in nanny. Consider listing out what characteristics or attributes would be present in the ideal candidate. Think about what qualities would matter to you, like age or education. Do you want a nanny who can speak different languages? Would you prefer someone who is extremely calm and patient, or do you want a childminder who is as energetic and enthusiastic as your children?
Look for Outstanding Qualities
In order to determine whether or not a nanny will be a good fit for you, your child, and your entire family, there are a few particular things to look for. Although all nannies have various personalities and levels of experience, you'll be able to feel confident in your decision if your chosen nanny has the following qualities:
· A genuine love and interest in children; a belief that being a nanny is much more than a job
· A shared philosophy on the fundamental principles of raising children, and an understanding and acceptance of the practices you have already implemented in your home
· A interest in creating learning opportunities for children and a desire to encourage creativity and expression
· A desire to be actively involved with children in their care
· A basic knowledge of nutrition for children and the ability to prepare healthy snacks or small meals
Additionally, you'll know you've found the right nanny if your child enjoys being in their company and is interested in spending more time with them!
Seek Qualified Professionals
Although your own intuition when it comes to selecting the right nanny can be helpful in guiding your decision, it is also important to back up any gut-level feelings with solid evidence of a childminder's qualifications. At the very least, potential nannies should have basic certifications in first aid, though many have additional, formal childcare certifications. Using a service such as UK & International Nannies, will provide you access to a variety of professionals with verified experience in childcare. Hiring a nanny from a placement service will give you peace of mind that you are choosing someone who is not only experienced and certified, but also qualified to handle the particular needs of your family.
Remember to clearly define your priorities and establish what kind of person your ideal candidate would be, and look for a few special qualities in any nannies you interview or invite for a trial period. A nanny should become a valued member of the family who is willing to work with and care for your children in a variety of ways. Childminders should be enthusiastic about providing for all the needs of the kids they help care for and also encourage growth, learning, and development. It can take time and a combination of intuition and proof of qualifications, but making the effort to choose the right nanny for your child is vital and the end result – a happy child – is well worth it.