Disclosure: This post may contain affiliate links, meaning we get a commission if you decide to make a purchase through our links, at no cost to you. Please read our disclosure for more info.
Did you know that having a doula on your birth team decreases your chance of having a cesarean section by at least 40%? Fewer c-sections are just one of the many benefits of having a doula.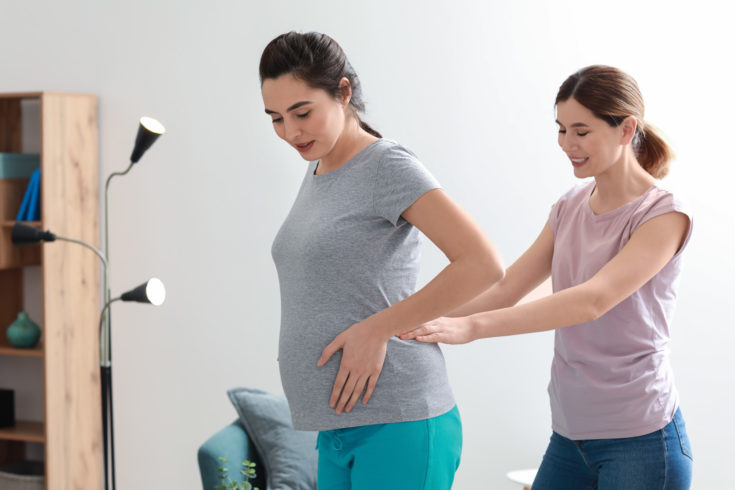 Just because we are in the middle of a pandemic, doesn't mean you don't need a doula. Hiring a doula is even more critical for you now than it was before COVID-19.
Read on to learn everything you need to know about doulas, including doula cost.
What is a Doula, and What Do They Do?
The word "doula" originates from Ancient Greece and means "woman's servant." A doula is a trained professional who provides support to mothers before, during, and after childbirth.
What kind of support do doulas provide? Doulas provide emotional, physical, and informational support to families. They also play an important advocacy role for the woman giving birth.
These are just a few of the things you can expect to receive help with if you hire a doula.
Doulas are a wealth of information. They will provide you with informational materials before you give birth and postpartum.
Doulas can suggest techniques to assist during labor. Some examples include positioning, breathing, and relaxation techniques.
Doulas provide information to help you create a birth plan that meets your family's needs. Your doula will know your birth plan and can advocate for you if medical professionals aren't listening to your needs.
Sometimes partners need support too. A doula is there for the mother and the partner. They can explain medical procedures to the partner if they're overwhelmed, and help keep the mother company when partners need a break.
If a medical procedure needs to occur, a doula can explain it to you and help you communicate your concerns with medical staff.
Doulas can provide information and assistance with breastfeeding. You can expect to have at least one postpartum appointment with your doula when you can discuss breastfeeding challenges. As a bonus, some doulas are even certified lactation consultants.
Typically the services provided by doula are provided in-person; however, in the midst of the COVID-19 pandemic doulas have adapted to meet the needs of women. Luckily, there are now virtual doulas who can support you on your journey.
How Much Does Hiring a Doula Cost?
A Doula is a trustworthy professional who dedicates its time to support and educate future moms. Once you've realized how vital it is, you are only one question away from knowing everything you need to start your journey: how much does a Doula cost?
Doula prices depend greatly depending on where you live. Prices in the United States range from about $800 to $2,500 for a birth doula. The national average cost of doula services is $1200.
Postpartum doulas are also available and typically charge an hourly rate. The average rate for a postpartum doula is $25 to $35 per hour.
This may seem like a lot, but in the long run, hiring a doula could save you money. Women who have doulas are less likely to have to pay for a lactation consultant or purchase formula. They are also less likely to have medical interventions that result in more massive medical bills.
If you want a doula but you simply can't afford it, there are options to look into. Although it's not common, there is health insurance that will pay for doula services. After all, a c-section birth costs health insurance companies an average of $10,000 more than a vaginal birth.
If you're interested in how to get your insurance company to pay for a doula check out this helpful packet.
It's also worth it to ask doulas in training if they would offer a discounted rate. Doulas need to log a certain amount of hours to get certified so they may offer a special rate if they want to get their hours faster.
What Are the Benefits of Hiring a Doula?
There are countless benefits to hiring a doula.
One of the major selling points of hiring a doula is you have a much better chance of not getting a c-section. Clinical evidence has proven that the odds of getting a c-section are 40.9% lower for women with doula-supported births.
According to the CDC, in the United States in 2018, the rate of C-sections was 31.9%. That is a staggering number, and believe it or not, that number is significantly lower than it was in past years.
In addition to lower rates of c-sections, women who have a doula experience have numerous other positive health outcomes for themselves and their babies. Here are a few other positive facts regarding doula care.
Women who have a doula are less likely to get an epidural.
Birthing mothers under the care of a doula report being more satisfied with their birth experience overall.
It's less likely that you'll need to use forceps or a vacuum if you have a doula.
In your postpartum period, you are more likely to have improved mental health. Doulas are well-informed about postpartum depression, and the lesser-known, postpartum anxiety.
Women who have doulas are more likely to have their breast milk come in within 72 hours after giving birth.
What Services Can I Expect to Get From a Doula?
A standard birth doula package will come with the following services.
Doulas typically offer two in-person or virtual prenatal appointments.
You get constant access to your doula either in person, or via phone or video, for your entire birth.
Doulas typically offer two postpartum appointments, either in person or virtually. During your postpartum appointments, you will receive breastfeeding support if you need it.
You gain access to all the years of experience and knowledge that your doula has to offer.
Get the Support You Need Today
Don't let COVID-19 get in the way of getting the support you need for yourself and your baby. Doulas are available to you virtually, and the benefits you get far outweigh the doula cost.
Looking for more helpful information about pregnancy and birth? Check out some of our other blog articles.