Disclosure: This post may contain affiliate links, meaning we get a commission if you decide to make a purchase through our links, at no cost to you. Please read our disclosure for more info.
Did you know that it's believed that the first kite was flown in China more than 2,000 years ago?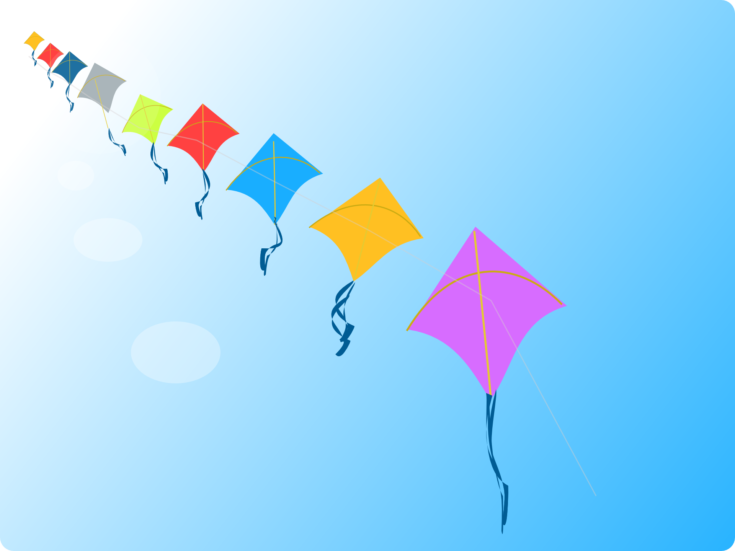 It's no surprise that nowadays flying a kite is still an activity people engage in. Flying a kite can also be a fun family activity if you know how to do it.
Have you been asking yourself "how do you fly a kite the right way?" so you can teach your kids this is the perfect guide for you
How Do You Fly a Kite? A Learning Guide for Both Kids and Adults
Many of us struggle with encouraging our kids to spend time outdoors because technology has children indoors most of the time. Planning fun outdoor activities will help get everyone outside and spend some quality time together and in nature.
A great activity to do together is picking out one of the best kites out there and learning how to fly it together and admire it as it flies around in the sky. A bonus is that flying a kite will also be an educational opportunity to teach your kids a little bit of science. If you end up falling in love with flying a kite and want a friendly competition there are competitions you can find online to join.
Assemble Your Kite
After you choose the best kite for your family you have to put it together. It's important to put your kite together the right way so that it flies. Here is where you will need to read the instructions to make sure you assemble it right.
Depending on the kite you choose some are easier and more simple than others. Some are technical and more complicated and usually used by kite flying enthusiasts.
Examine the Wind and the Weather
Before you decide to fly your kite pay attention to the wind that day. If there is too little wind it will be difficult to fly your kite and if there's too much wind you might ruin your kite if you lose control. The best time to fly your kite is in a medium strength wind.
You don't need a lot of wind, only enough to lift it into the air and keep it there. Keep in mind that some kites don't need any air to be flown. Some people prefer to buy a gauge wind but it's not necessary.
If it's pouring rain, storming, and lightning outside this is not a good time to fly your kite. Electricity in the clouds is attracted to damp kite lines and you can end up getting struck by lightning.
Choose Your Location
Now that you have your kite assembled, and the wind is perfect it's time to choose where to fly your kite. You want to make sure it's an open area. If there are too many trees around you might get your kite stuck and end up losing it or having to climb up to save it.
You want to stay away from power lines, airports, and roads. A beach, open field, or park are great places to fly your kite worry free.
If there are other kite flyers around be mindful of where they are flying their kites. If you get tangled with someone else's kite don't pull on it because you might break both kites. Instead, both you and the other person you're tangled with should stand next to each other and bring down the kites to unwrap them.
Launch Time
If there's enough wind hold your kite up and let the line out and watch your kite go straight up. Continue to release the line until the kite reaches a point that there's enough steady wind to stay up in the air.
If there's a little bit of light wind have someone hold up the kite while you pull the line and release it until the kite is at the perfect height and altitude. Once it's flying on its own you can stop releasing the line. At this point, you can all stare at the sky and admire your kite flying high in the air.
Kite Tails
Something you might consider doing is adding tails to your kite. If you add tails it will help the kite remain stable if it's windier outside. As long as you use light-weight material for the tails you can attach a lot plus it looks pretty cool while it's up in the air flying.
[amazon_link asins='B00C9T4GVE,B07L9Z7CCV' template='CopyOf-ProductGrid' store='preemietwinswp-20′ marketplace='US' link_id='e4030b7b-3a6b-4619-9d2c-a0d9f77b5ff8′]
Fly with a Few Friends
If you prefer to have friends join in on the flying adventure make a fun event out of it. Invite some friends to the location you choose and make a kite day out of it. You can all learn to fly together and have an educational lesson about the wind and different speeds.
You can also put on some fun dance jams and watch your kites fly in the sky.
Happy Flying!
Now that you have the guide above to answer the question of how do you fly a kite, you can get out there and fly a kite like a pro with your family or by yourself.
[amazon_link asins='B0167ZL9CO,B012D3PN7G' template='CopyOf-ProductGrid' store='preemietwinswp-20′ marketplace='US' link_id='354681fc-350a-4cd0-89ff-3a199be7f727′]
Make it a fun outdoor activity for your family or invite a few of your kid's friends over to also join in on the fun. Why not revolve a whole day around kite flying? Serve pizza and drinks and see who can fly their kite the highest.
Make sure you check out our kid's section on our blog for fun parenting tips and more activities to do with your little ones.