Disclosure: This post may contain affiliate links, meaning we get a commission if you decide to make a purchase through our links, at no cost to you. Please read our disclosure for more info.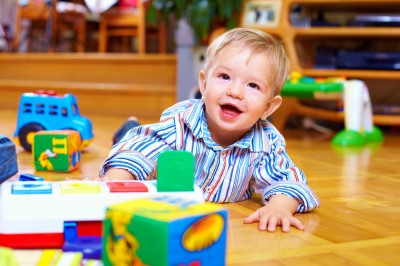 If you've got a growing family, that remodeling job you've been planning doesn't have to be put on indefinite hold. Babyproofing adds an extra layer of concern for you, but here are a few basic tips you can use to prioritize safety.
Paint
Young children and pregnant mothers are much more susceptible to toxins, as well as irritants such as dust that will get disturbed during the work, and should be considered when planning the construction. If painting rooms is part of the planned work, be aware that inhaling that smell of a freshly painted room isn't healthy. Talk with your local paint experts and find out about VOC-free paints. That stands for volatile organic compound-free paint, and they're available in many colors and finishes and have proven to be as effective as other, standard paints.
Hardwood flooring
If you'll be addressing the flooring during your renovation, it would be smart to consider a hardwood floor instead of carpet. While more expensive upfront, they can add to the value of your home and are substantially easier to clean. Most importantly, even the best vacuum cleaner can never get all the dust, dander and mites out of a carpet, all of which get kicked up into the air and can irritate the family. If you have a history of allergies in the family, you can be amazed at the difference hardwood floors will make.
Fasten items like bookshelves to wall
Many toddlers are climbers, and the world to them looks like a jungle-gym waiting to be explored. Tumbling slowly off a sofa is heart-wrenching enough, but that bookshelf can act like a ladder for them. Any tall furniture that could potentially tip over should be securely fastened to the wall!
Banisters have no footholds
The change a banister or handrail can make to the ambiance of a room is dramatic, but your little climber could get themselves into a very dangerous situation if they can get any foothold to get on top of it! Be sure any new banisters don't have any sort of foothold that could give them the step they need to get into trouble.
Latches or locks on cupboard doors and drawers
This is often part of the babyproofing of a home to begin with, adding latches or locks to cupboard doors and drawers and keeping a curious mind from finding potentially dangerous chemicals or utensils.
When you're remodeling, new cabinetry may be part of the plan, and it's important to remember to add these simple and effective safety devices back in, or to take the time to do it now if it's not been done before!
[amazon_link asins='B073QJ63X4,B01GHSDWBW' template='CopyOf-ProductGrid' store='preemietwinswp-20′ marketplace='US' link_id='29812432-20c7-11e8-8f4c-57eeec6b6637′]
Rounded corners and door locks
When planning your remodeling job, look for opportunities to add safety to the home. New counters can be installed with rounded corners so what could be a nasty gash becomes just a bump on the head. If you're not replacing furniture such as coffee tables, corner guards can be purchased and added to add a layer of protection, or if your remodel involves new furniture and accessories, chose items with safety in mind such as round tables.
[amazon_link asins='B0771L5HN5,B01MSJU1RI' template='CopyOf-ProductGrid' store='preemietwinswp-20′ marketplace='US' link_id='12db1b6f-20c7-11e8-9282-b7bbf281a06d']
Door knobs are also a great way to practice your skills when you're a toddler, and a closed door is just inviting them to open and explore. Door knob covers that prevent little hands from turning them should be added as well during the work.
Safety can be simple and cost effective
Get down on your hands and knees, and take a look at the world from the viewpoint of your toddler. You'll see what a dangerous place your home can be, with sharp corners on tables, power outlets at eye level, and furniture just waiting to be climbed on! Keep this in mind as you plan your renovation and a few basic decisions can be made to make your home safer.