Disclosure: This post may contain affiliate links, meaning we get a commission if you decide to make a purchase through our links, at no cost to you. Please read our disclosure for more info.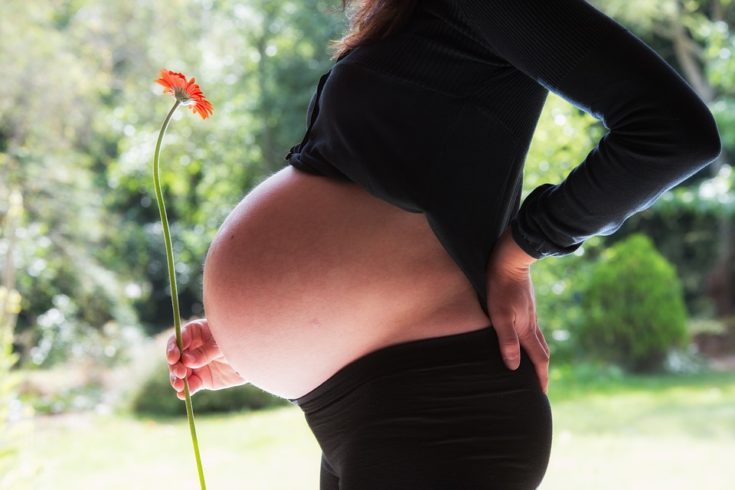 The third and final trimester of pregnancy is filled with all kinds of emotions for the mom to be. There is a sense of excitement, as well as nerves and a bit of anxiety as they realize the big day is getting near. With that said the third trimester is also known as being the most uncomfortable time of pregnancy. Getting around begins to be a burden, sleeping is difficult, finding a comfortable position seems impossible, morning sickness can return, and it can feel as though your body is no longer your own.
Finding ways to get through the third trimester of pregnancy with as little discomfort as possible isn't an easy task. What works for some, may not work for others. But with that in mind we've gone ahead and put together five ways to stay comfortable during the third trimester and help you reach your due date in a smoother manner.
Scrap the Fancy and Trendy Shoes
First things first, comfort should be the priority at this point which means it's time to push the fancy and trendy shoes aside. If your feet have swollen there's a good chance your regular shoes won't fit you anyway. Heels should be avoided at all costs, as this will just cause more discomfort than they are worth. Instead opt for comfortable flats that can offer a little extra room. Slip-on shoes are a great option, as are running shoes that you can loosen with the laces.
Give a Maternity Belt a Try
Another tip is to check out a pregnancy belt, such as the one discussed on Pregmed.org. These act as a support belt for your tummy helping to carry the extra weight. It can help your back to stay more comfortable, as well as your tummy. Typically, they can be adjusted to allow for extra room as you continue to grow. They can be worn under your clothes so you won't even see it.
[amazon_link asins='B01IN80XHK,B075NDZP3F' template='CopyOf-ProductGrid' store='preemietwinswp-20′ marketplace='US' link_id='dd2e9887-5d08-11e8-a7c9-e333fd8f3d3e']
Stock Up on Pillows
Extra support when you're relaxing on the couch or in bed is imperative, which means you'll probably benefit from a few extra pillows. You can use them to support your lower back, neck, between your legs, and to elevate your legs.
[amazon_link asins='B0153X1M14,B00DVKJXFE' template='CopyOf-ProductGrid' store='preemietwinswp-20′ marketplace='US' link_id='eb0d9f65-5d08-11e8-b800-15f9281f3716′]
Take Time Off Your Feet
Lower back pain is another common symptom during the third trimester. While it's impossible to get rid of it completely, you can help to ease it by making sure you don't stand for long periods at a time. Keep taking a rest and make sure you sit down. Prenatal massages can also be useful to help relieve some of that pain and pressure in your lower back.
Avoid Certain Foods
Finally, there is the indigestion and heartburn that is common with so many women in the final weeks of pregnancy. This is caused by the uterus that is putting pressure on the intestines and stomach as it expands. You can help to reduce the amount of indigestion and heartburn by avoiding greasy, heavy, and spicy foods.
Each of these tips will help you to at least lessen some of the discomfort you are experiencing, allowing you to get to your due date in a more manageable fashion.