Disclosure: This post may contain affiliate links, meaning we get a commission if you decide to make a purchase through our links, at no cost to you. Please read our disclosure for more info.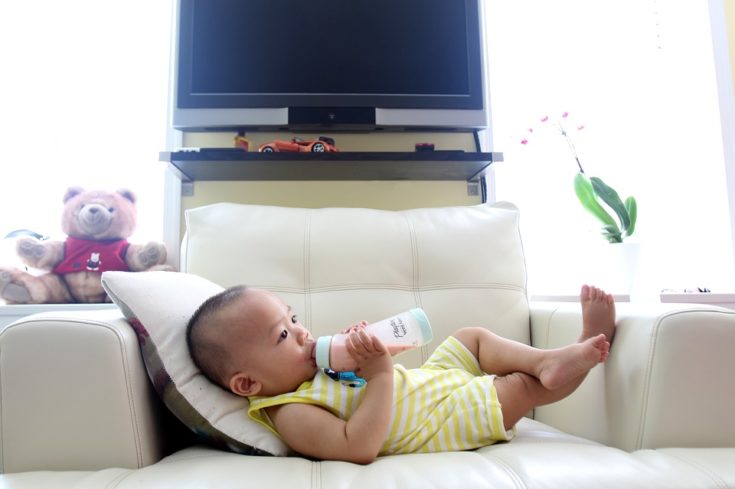 When you're waiting to welcome a new baby into your home, life as you know it will change dramatically. That includes the decor in your home. Your baby will not only need loving arms to be held by; they'll also need a loving space where they can be safe and comfortable.
This criteria is important for parents too, along with convenience and durability. Although being a parent is one of the most challenging experiences ever to be had,these tips will  hopefully make decorating your home for your little one less so.
Safety First
The line "safety first" is well known for a reason. When it comes to your baby, making your living space as safe as possible is of utmost importance. One way to go about this is to designate a specified area where he or she will spend most of their time.
Having your baby in a concentrated area will make the task of baby-proofing that space much easier and faster. Once you have decided on a space, make it so that the baby will stay in that area. This can be done by the use of a baby gate.
When you know your baby is in a safe place (and will stay in that safe place), it can relieve much anxiety when you have to do other activities without them. Anxiety about the safety of your baby can also be relieved by purchasing the right kind of furniture. Of course, safety is one of the first things you should look at when selecting a piece of baby furniture.
This includes the materials that were used to make the product, the height and width of certain parts, and its durability. You want a product that will last as long as the baby needs it and will not create any serious hazards.
Comfortably Convenient
Another important aspect to consider is comfort. If your baby is sleeping in a crib, you want that crib to be as comfortable as possible. Comfortable babies at nap time will go and stay asleep more easily than babies who are uncomfortable, giving tired parents a much needed break.
Convenience is another factor to consider when arranging your baby's space and room. You want to make sure that everything is placed in a way where it is within reach when you need it. This is especially crucial when it comes to the changing area.
You definitely don't want your diapers all the way on the other side of the room, unless you want to invest in washable wallpaper (which would probably be a good investment either way). So just keep in mind the areas where you will spend the most time with your baby and organize any readily needed items accordingly.
Dedicated Decorating
After taking care of those aspects of the interior design of your home, it's on to creating the perfect nursery! When creating a nursery of your child-to-be, think of a fun theme that both you and your baby would enjoy.
In terms of home decor for the nursery, a rug is essential. If you face difficulty on the types of rugs to buy, do your research and read reviews or get your friends and family's opinions.
Comfort is also a big necessity for parents, so make sure you love your baby's nursery as much as you think your baby would. When picking a color to paint the room, pick a color you would find pleasing, since the baby will be happy whether the walls are yellow, purple, or any other color of the rainbow. Follow these tips and you won't need to wish you could have known more.
When you are expecting a child, it is simultaneously the happiest and most stressful time of your life. With so many things to think and worry about, the last thing you need on your plate is wondering whether or not your home is a warm and safe place for your child. Decorating your home for your baby only needs to be as hard as you make it.
In the end, it is up to you to feel satisfied with the safety and style of your living space. Then, whenever you walk into your baby's room, the only thing you'll be thinking about is the good memories you will create in there.