Disclosure: This post may contain affiliate links, meaning we get a commission if you decide to make a purchase through our links, at no cost to you. Please read our disclosure for more info.
Traveling with a baby is never easy; however, when traveling with twins, you have double the amount of stress to deal with!  It, therefore, pays to ensure that you plan and prepare for such trips with your little ones well in advance. The trick is to be ready for every eventuality, in the shape of an emergency kit and the most practical of travel gear, while getting as much done as you can before you set off.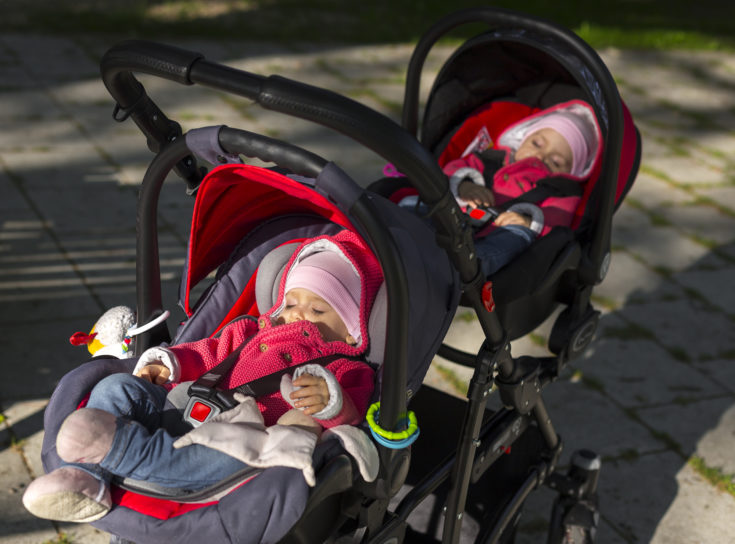 Top 5 Tips for Traveling with Baby Twins: How to Make Your Trip Less Stressful
1.     Research Your Airline Before You Fly
The Transportation Security Administration offers a list of general rules for those flying with children. However, it's worth noting that almost every airline has its own set of regulations that you may need to double check. This should include such issues concerning:
The food and liquids which you're allowed to take on board
The requirements for baby seats
The paperwork that should accompany each baby
Parents of twins should also be aware that some airlines state a ratio of one baby to be accompanied by one adult.
2.     Test out Your Travel Gear Before You Head Off
If you're buying many new things for your trip, be sure to try them beforehand to prevent any issues arising during your journey!
This is especially important for your babies items as they may need a little bit more time adjusting and getting used to something new, such as a car seat, a Pack and Play, or even new toys and clothes.
Place some of these newer items around the home and, if appropriate, in with your baby as they sleep, merely to get that sense of familiarity and security. That way, they're more than likely to take to them better as you travel. You can also make sure here that each new item works beforehand.
3.     Take a Familiar Entertainment and Sleeping Solution with You
Not only will you need something to keep your little ones entertained while traveling, but when you reach your destination, you may find it easier if you have a familiar place for them to take time out in or sleep in each night.
A Pack and Play is the perfect solution here as it's lightweight when traveling with and easy to set up at the other end. With a range of sizes and types to choose from, the best-pack-n-play.com website suggests a couple of styles that may be more suitable for your baby's play and sleep needs as well as your traveling circumstances.
4.     Pack a Well-Stocked Emergency Bag
When traveling with twin babies, make sure to stock up on everything that you consider essential when at home. This may mean stocking up on double the number of baby wipes, clean outfits, and bottles for example, but if you know of something that you won't be able to get through your journey without, make every effort to include it here.
Don't forget to throw in a few plastic bags here so you can easily pack away any dirty or soiled clothing, especially if you're expecting a few accidents along the way! Sealable bags are perfect here for making sure your emergency bag stays fresh. Just ensure that this bag stays close to hand throughout your trip!
Likewise, keep a few favorite toys and a small comfort blanket in this bag as well, to soothe your babies should they get a bit fretful as the time goes on.
5.     Make Sure the Adults Are Prepared
Finally, once you've got the little ones sorted, make sure that both you and your partner are in sync and aware of each other's responsibilities throughout your trip!
Being ultra-organized before you set off will allow you to designate specific jobs and deal with any situations that your journey may throw at you. Better still, if you can both sync your duties and work together throughout, your travel may just pass with the minimal amount of fuss, ensuring a calmer and more chilled family once you reach that final destination.