Disclosure: This post may contain affiliate links, meaning we get a commission if you decide to make a purchase through our links, at no cost to you. Please read our disclosure for more info.
Traveling is often quite expensive, especially when you have kids to look after. But there are some destinations that won't pull as hard on the purse strings than others. The whole family can have plenty of fun every day for cheap, or even for free.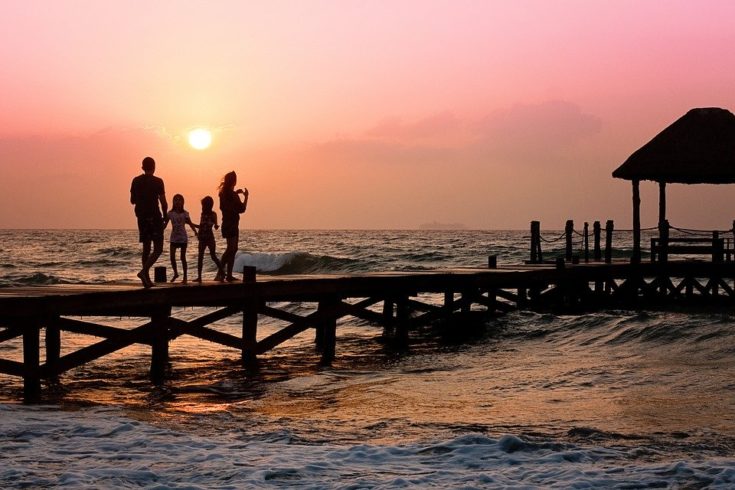 You don't need to go for a long time to feel like you've had a nice break. Even a long weekend is sometimes enough.So with all this in mind, here are some cheap vacation ideas for families.
1. Lake Tahoe, California
First up is Lake Tahoe in California. There are lovely beaches that meet with the crystal clear waters. You don't have to pay to access the beach. Some of them even provide free entertainment depending on the day and time you decide to go.The nearby mountains offer a good opportunity to explore the region. There are some parks and historical sites to check out, with the castle in the woods a particular highlight.
2. Las Vegas, Nevada
Las Vegas may not be the first place that comes to mind when planning a cheap family vacation, but it really does offer some amazing ideas. Some of the city's most popular attractions, like the Bellagio Botanical Gardens, the Bellagio water fountain show, the Ethel M. Chocolate Factory and the aquarium are all free.Las Vegas also offers some fun family activities away from the city centre. For example, take a short drive to Red Rock Canyon and explore the conservation area.As noted by CoolThingsChicago, even the hotels don't cost too much as they need to be competitive. Further, as mentioned by VegasForAll, you don't have to fork out to get tickets for a good show.
3. Atlantic City, New Jersey
The East Coast version of Las Vegas provides just as much fun for the family on a budget. It is home to the famous boardwalk where you can enjoy the arcade games, some rides and so much more. According to Kate Huber, at NJGamblingFun, "The beach is right next door too and it doesn't cost a penny to use so get a tan and build as many sandcastles as you want! Additionally, take a trip out into the ocean and try and spot some dolphins."To top it all off, it's not expensive to find a good hotel. You aren't limited to casino resorts either.
4. Outer Banks, North Carolina
There aren't many resorts in Outer Banks. This is exactly why many people view it as a cheap vacation idea for families. The drive up Highway 158 is great as you can make a few stops at the Cape Hatteras Lighthouse and soak up some sun at Carova Beach where wild horses roam free.While you're there, you must go and visit the Wright Brothers National Memorial. Kids under 15 go free and adult tickets cost less than $5. There are so many vacation homes to rent here. Best of all, they are affordable. Of course, there are still hotels in the area if you'd prefer.
5. Poconos, Pennsylvania
The Poconos is a great place for family vacations on a budget. You can save a tonne of money by visiting the state parks and campsites. They are loved by locals and tourists alike.If you're looking for some ideas, head to the Hickory Run State Park for a hike or the Delaware Water Gap National Recreation Area for a free float down the river – just remember to bring your own floats.For the all-in-one stay, check out one of the many all-inclusive resorts. They may cost a bit more but you'll enjoy the little luxuries that came with it.
6. Myrtle Beach, South Carolina
Myrtle Beach has got all you need for a cheap getaway. In fact, even the best lodgings here are among the cheapest in the area. The hotels offer free entry to the water parks if you're a guest. Even if you don't, all-day passes won't set you back too much. For example, the Family Kingdom Water Park is around $30 each. Compared to other theme parks, this is a drop in the ocean. You also have the option to pay for individual rides if you don't plan on staying all day.When you're unpacked and ready to explore, the Myrtle Beach Boardwalk & Promenade is stone's throw away and it's filled with fun, such as the Myrtle Beach Skywheel for the kids to enjoy.
7. Sequoia And Kings Canyon National Parks, California
Need another cheap vacation idea for families? Look no further than national parks. The beauty of Sequoia and Kings Canyon is that you can visit them both within a short amount of time and save money doing so.Pay just $20 to visit both parks. This is great value as it goes a long way. For example, you can take your family to see the largest tree in the world and just beautiful views that are unlike anything you've ever seen. Most visitors camp outside, giving you another chance to save some cash. That said, the onsite lodgings are affordable anyway.
8. Wisconsin Dells, Wisconsin
Here lies the self-proclaimed "Water Park Capital of the World." All you need to do is pay for the hotel and you've pretty much paid for the rest of your vacation. All the popular resorts like Wilderness Resort, Chula Vista Resort and Kalahari Resort all have indoor and outdoor water parks included in the rates.There are other perks too, such as spas, shows for the entire family, mini-golf and more. There is always a deal or discount to find.When you need a break, take a trip the Wisconsin Deer Park or the Wilderness Territory, before heading back for some grub at one of the onsite restaurants.
9. South Padre Island, Texas
South Padre Island is all about the beach. All you need to think about here is sand and surf. It's the ideal cheap vacation for families. Relax by the water or choose to take part in the various activities like kayaking, windsurfing and paddleboarding.Head to Schlitterbahn South Padre Island for some water park action. You can even bring your own packed lunch and the rates are discounted if you arrive in the afternoon.The vacation home rentals at South Padre Island prove the most popular choice for families as there aren't many resorts nearby.