Disclosure: This post may contain affiliate links, meaning we get a commission if you decide to make a purchase through our links, at no cost to you. Please read our disclosure for more info.
Cancer has become an epidemic in our small town community. We have lost too many good people in the last year alone within blocks of my home. Some blame it on the chemicals that farmers are using on their crops (there is a corn field in my back yard). And now that my good friend's 16-year-old son (he is classmates with my 16-year-old twins) has cancer, I'm even more interested in helping find a cure of this deadly disease. In fact, I'm raising money for him over at CureDalton.com by selling wristbands.
Anyway, when I was reading about Oeuf furniture over at ChicOrganicBaby.com, I was shocked to read some of the "OMG/Scary Facts" about cancer, including:
The EPA reported that nearly 30 cancer-causing chemicals are detectable in the fat tissues of almost every American person.
If we could just reduce (not totally eliminate) environmental carcinogens, we could save at least 50,000 lives every year from cancer.
Toxic chemicals commonly found in household cleaners are three times more likely to cause cancer than any outdoor airborne pollutants.
Researchers found that some chemicals can cause brain damage in a child, cancer or even mimic and/or block hormones.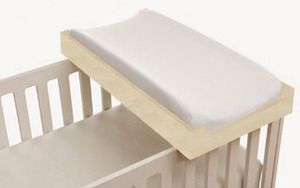 So what does a Oeuf crib or a Oeuf changing station have to do with cancer? All Oeuf furniture is eco-friendly because they use natural, renewable, recyclable materials that emphasize conservation and lead to environmentally sound products. Oeuf employs eco-conscious manufacturing processes that promote low emissions and sustainability by using non-toxic and water-based finishes that are free of VOC health hazards.
So maybe less exposure to harmful chemicals as infants will lead to less cancer in the future? Let's hope so.