Disclosure: This post may contain affiliate links, meaning we get a commission if you decide to make a purchase through our links, at no cost to you. Please read our disclosure for more info.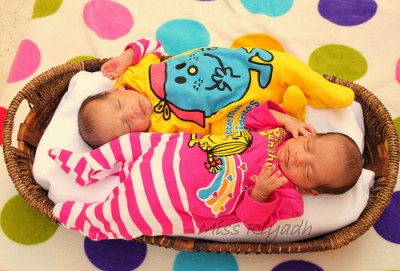 Getting ready to welcome premature twins to your home is a life-changing experience. Of course, it's a lot of fun to exercise your interior decorating skills to create nurseries that are whimsical and memorable. However, don't forget to be safety conscious, too. According to some experts, unintentional injuries cause death and permanent disability to more than 800,000 children around the world each year. However, you can ensure a safe living environment for your premature twins by taking a few basic precautions.
Choking Hazards
Babies from birth and beyond are intensely curious. Remember that your newborn twins will explore the world in a way that's different from how you would view a new environment. In their first few months of life, babies often put things into their mouths as a way to identify them. Before you bring your babies' home, survey their nursery area as well as the other main parts of your home that they'll have access to, and figure out ways to deal with any potential choking hazards. This task will be time-consuming, but well worth the effort you put into it, considering that it can help your little ones avoid a dangerous situation.
Poisonous Substances
Take care to keep dangerous items out of the reach of your babies, too. Remember that even items that are safe in normal quantities, such as toothpaste, are extremely dangerous if consumed in large amounts. In addition to keeping things out of reach, make sure that household items are also fitted with childproof caps. This provides an extra safety measure if someone forgets to return an item to a hard-to-reach place once they have used it. Also, look up the number for your local poison control center and post it in an obvious area such as by the telephone or on the refrigerator. This allows people in your home to take quick action in the event of an emergency.
Home Security Systems
Although they aren't something that many parents immediately think of, home security systems can also be valuable in creating a safe living environment for your new twins. You can't always be everywhere at once, but you can certainly get some peace of mind by installing a security camera to let you know that all is well even if you're not in the same room as your babies. Many options have timers so they'll remain operating only when you need them, and others can even be turned on or off via your smartphone.
Sudden Infant Death Syndrome (also known as SIDS) is a condition that can strike infants as they sleep, and it understandably brings fear to the heart of any parent. Although there are some things you can do to lessen the chance of it happening, such as using firm bedding and placing your children on their back to sleep, a home security system can help you feel even more at ease. Websites such as securitysystems.net are a resource for letting you know what's available, and how much it might cost. It's a good idea to set a budget and also make a list of the specific features that are most important for your needs. With that information, a security system specialist can recommend a few options.
Last year, Israeli university students even developed a system to help alert parents to the possibility of a sleeping child that's in distress. The prototype was called "BabyBeat" and measured factors such as heart rate, then sounded an alarm if anything abnormal was detected. Developments like these make it easy to see why sometimes simply baby-proofing your home is not enough if you're serious about being proactive.
As a parent, you want to do everything you can to give your twins a strong start at life. Keep in mind that being born prematurely can carry additional risks related to safety. For more advice, consult with your pediatrician and bring up any concerns that you have as your twins adjust to their new home. Since these experts see children on a daily basis, they'll be able to offer suggestions that you may not have considered on your own. Happy parenting!