Disclosure: This post may contain affiliate links, meaning we get a commission if you decide to make a purchase through our links, at no cost to you. Please read our disclosure for more info.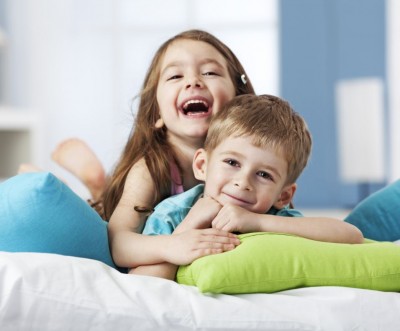 It takes today's kids 90 seconds longer to run a mile than children from 30 years ago, according to latest data from National Public Radio. While this is more of a fitness statistic, it may still makes you wonder if you're spending enough time teaching your kids the same healthy habits your parents taught you. To ensure you get your message across, stress and get your kids to commit to these 6 healthy habits.
Eat a Healthy Diet
Challenge your kids from a young age to eat foods that are a variety of different colors. Whether it's an orange, red apple or yellow corn, make it a fun to eat colorful foods but stress the health benefits as well. For example, you may cite the memorable old adage, "An apple a day keeps the doctor away."
Get Regular Exercise
It's no wonder today's kids are less fit. They spend more time surfing the Internet or listening to their iPods than playing outside and getting fresh air and sunshine. Rather than just limiting their use of the electronics, encourage them to participate in physical activities they enjoy, such as swimming, karate or hiking.
Drink Plenty of Water
Sure, sodas taste delicious on hot summer days, but they're fraught with sugar and can cause weight problems for your children. Make water more accessible to your little ones by placing bottles in the refrigerator. Buy fewer soft drinks.
Brush Your Teeth
New permanent teeth start forming in children's mouths at six months. That's why it's so important to get your kids in the habit of brushing on a regular basis. Insist they brush after each meal and explain why it is advantageous to do so. To stimulate their interest, purchase toothbrushes with their favorite movie characters on the handle. You might also want to discuss regular visits to dental offices.
Make New Friends
Social interaction helps kids learn how to behave around their peers. Your children are also less likely to get depressed or feel left out if they have friends. Encourage your kids to participate in school activities from a young age. Sign them up for scouts. Allow them to bring friends to the house for fun gatherings.
Read Every Day
A healthy mind is essential for your kids' cognitive development. Read to them from an early age. When they can read, go to the library and let them pick out books each month. Those with better reading skills will make better grades.
If you stress these 6 habits to your children, they are more likely to grow up to be healthy, responsible adults.