Disclosure: This post may contain affiliate links, meaning we get a commission if you decide to make a purchase through our links, at no cost to you. Please read our disclosure for more info.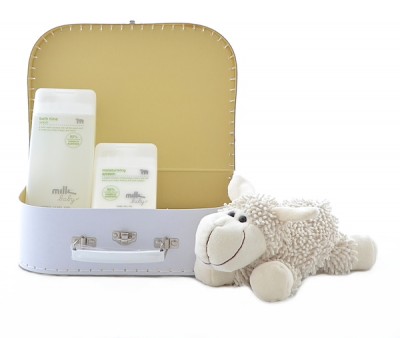 Although baby hampers are common gifts to give to babies in Sydney, many people have not mastered what should be included in a hamper. They concentrate on the outward appearance, which is obviously important, and pay little attention to other features of the hamper. If you've never realized, good hampers should not only be nice to look at but should also be functional. Of course, the functionality of a hamper relies mainly on the products that it contains. Here's a look at some of the most important items you should consider when buying baby hampers in Sydney:
1. Organic Bath Wash
Since babies need to be bathed on a regular basis, it is sensible enough to say that your baby gift hamper shouldn't miss a bath wash. However, you should not go for any bath wash that you can find. Take your time and look for an original bath wash from a reputable company. One of the many advantages of an organic bath wash is that it does not contain dangerous scents, chemicals or dyes that can cause harm to the skin of a baby when being bathed. This makes them some of the best products that you can ever include in any baby gift hamper.
2. Soft and Luxurious Toys
Just like a fun bath, babies also appreciate having something soft and dry to cuddle and play with, which is why you shouldn't hesitate to add one or two high-quality soft toys to the hamper. When looking for toys, it is important to ensure that they are made specifically for babies. There are many toys out there that are made of components and materials that can be hazardous to babies, explaining why you need to be careful. If you succeed in finding the right soft and luxurious toys, you will definitely put a big smile on both the mother and the baby for a long time.
3. Buy Domestic Items
If you want to be sure that you are buying or getting organic and baby-safe items to add to your baby hampers in Sydney, stick to buying Australian-made products. For your information, Sydney is full of baby hamper sellers who are dedicated to pre-packing their hampers with only Australian-made products. Buying domestic products and avoiding products that are manufactured outside Australia enable you to have a peace of mind knowing that you are getting a hamper filled with baby-safe bath wash, moisturizers, toys and more.
Even though it is a good idea to be concerned about the outside appearance of the baby hamper, you shouldn't forget that what's inside is also of great importance. Most people who are interested in finding the best baby hampers in Sydney always turn to Sweet Arrivals for Australian-made products, style and variety. To know the reasons why a good number of people make Sweet Arrivals their number one choice when looking for baby hamper, feel free to visit the company's official website at http://sweetarrivals.com.au/. The good thing about the company is that it is open 24/7, meaning that you can get in touch with them during any time of the day or night.