Disclosure: This post may contain affiliate links, meaning we get a commission if you decide to make a purchase through our links, at no cost to you. Please read our disclosure for more info.
While you may have had Pin the Tail on the Donkey as a kid, modern children's birthday parties could practically be considered an Olympic event, with top honors going for the most original and inspired activities.
From extravagant themes to dress-up and full menus, a plain old soda-and-chips party probably won't cut it – especially if your child has been the lucky guest at another child's exciting party. By checking out some of these crazy and cool themes, you can decide how you want to celebrate your own child's birthday when it rolls around.
Superhero Party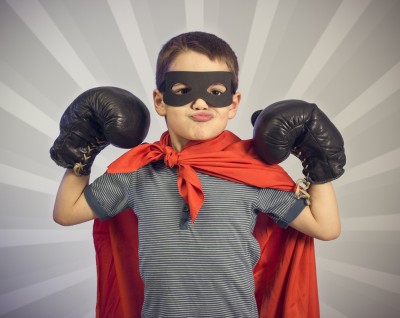 One of the best parts about a superhero party is the fact that you can do as much or as little as you want. While some would just create a superhero-based theme, other families go all out, providing handmade or store-bought costumes for each child. But whether you just serve up superhero cupcakes or create an elaborate mission for your little superheroes to complete, it's the ideal party theme for a child who loves all things Superman and Batman. Kids can even create their own personas, leading up to nonstop action for the entire party.
Candyland Theme
Ever wonder what is was like to live in a world made entirely of candy? Join the club. By turning your home, backyard or even garage into a life-size game of Candyland, you can delight your child's sweet tooth and creative nature simultaneously. Picture this: construction paper squares for each space, and an oversized dice and large candies made from painted cardboard. Of course, no Candyland birthday is complete without plenty of candy – you could do a complete candy bar for guests to fill up on before they head home on a complete sugar high.
Dance Party
For older kids and teens, a birthday dance party is in order. With fun music and a DJ who knows how to get a party going, older kids can feel decidedly grown up while getting down on the dance floor. Setting up a room with darker lighting, a disco ball and spotlights helps set the mood, while hiring a children's party DJ can mean the difference between bored and engaged kids. You can even get in on the fun – your child will love to see you doing the Chicken Dance from the center of the floor. It's a fun idea for older kids and sweet 16 birthday parties alike.
Breakfast at Tiffany's
While it may seem a little over the top, a glam girl of any age would love a party based on the classic Audrey Hepburn movie, Breakfast at Tiffany's. In a room dripping with jewels and pearls for décor, your very own Holly Golightly could don her best little black dress
and play dress up with her friends, complete with coiffed hair and piles of jewelry. Serve up breakfast foods like danishes and donuts and set up a lush photo booth with tons of props. Each girl can even bring home a framed picture of herself looking seriously glam.
Masquerade Ball
If you're the type to go big or go home, you might be interested in throwing a masquerade-themed party for your older child. Complete with fancy dresses and masks, boys and girls can dance the night away while playing games like Musical Chairs in their ball gowns. Or, play a game with the masks, where each child has to guess the identity of another by asking questions. Décor should be sumptuous, while finger foods should be the snack of the day to make party goers feel grown up and special while attending their first-ever ball.