Disclosure: This post may contain affiliate links, meaning we get a commission if you decide to make a purchase through our links, at no cost to you. Please read our disclosure for more info.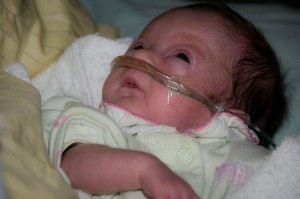 People seem to harbor the notion that childbirth is some mystical experience that makes women part of a secret club and that mothers inherently know what to do with a baby as soon as it's in their arms. While giving birth is certainly an amazing and life-changing event, it is neither easy nor predictable, even under the best of circumstances. And if you go into labor prematurely, it can throw everything out of whack, both at the hospital and on the home front. For starters, if you were prepared for a full-term baby, you may not be aware of the special challenges that preemies face, above and beyond the normal demands of caring for a newborn. But if you understand their stages of development, you will have a much easier time meeting their needs (and your own) as they grow.
1. NICU. Depending on how early your baby is born, you may have to spend days, weeks, or months watching them grow inside an incubator at the neonatal intensive care unit. During this time, you will most likely be unable to hold your preemie as he will be covered with monitors, fed intravenously, and given oxygen. This can be extremely difficult for parents who want to hug and comfort their child, but you will have to prepare yourself for love at a distance, especially since it is unrealistic to live in a hospital waiting room for weeks at a time. Just remind yourself that he needs this medical care to survive and he will soon be able to breathe and eat on his own.
2. Coming home. Your baby will be released to go home when his body temperature stabilizes, he gains enough weight, he can be fed by mouth, and his medications can be administered in a home setting.
3. Monitors. When you first bring home your preemie, you may have to monitor his vital signs to ensure that he is breathing and eating properly, as well as avoiding infections (which are common). You will likely be given a monitor that will sound off when breathing stops or his heartbeat becomes too slow. At this point, you will have to resuscitate him by patting him forcefully on the back to jump-start his system. Many parents are apprehensive about harming their babies in this manner, but for the most part, that won't happen, and when you think about it, you'd rather have them bruised than not have them at all.
4. Growth. Your preemie may remain small for his age for months or even years, but you still need to know that he is developing as he should. So find a growth chart that is adjusted for preemies so that you can ensure his growth patterns are progressing accordingly.
5. Feeding. A good rule of thumb to determine when your preemie should begin to change his diet is to find out when a full-term baby would start ingesting solids and such, then subtract from that the number of weeks your child was born prematurely. This should give you a fairly good notion of when to make the switch.
6. Brain function. It can be hard to tell if an infant's mental development is progressing as it should even with full-term babies, since they all develop at slightly different rates. And with preemies, there is always the fear of disability in this area. Just be prepared for the fact that it may take them a little longer to begin walking and talking, but they should eventually catch up to other kids their age. If you think you see warning signs of disorder, simply talk to your doctor to determine if it is normal or if you should seek the opinion of a specialist.
Sarah Danielson is a writer for culinary arts schools where you can browse schools and the latest trends in the culinary arena.