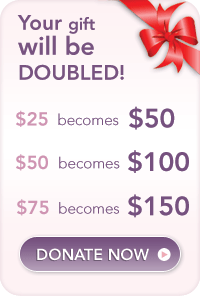 March of Dime's Board of Trustees is funding a matching gift opportunity: every dollar of every donation you make until December 31, 2009, will be doubled — up to $150,000!
Your donation of $25 will become $50 when it is matched. Your gift of $50 becomes $100. Anything you can give today will be worth twice as much!
Imagine: $300,000 to help moms and babies, this year and next. We can't let this opportunity pass us by!
Your gift today, doubled, helps the March of Dimes fund research into premature birth and provide services to families of infants born too soon or sick.  Donate Today!