Disclosure: This post may contain affiliate links, meaning we get a commission if you decide to make a purchase through our links, at no cost to you. Please read our disclosure for more info.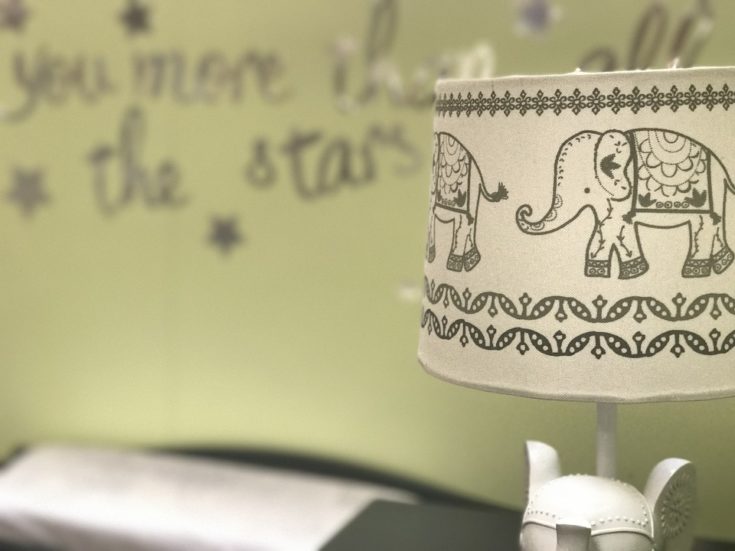 Having the right light fixture in the children's room can visually divide larger spaces into smaller sections so the kids can use every corner depending on their mood and focus. A good lighting solution can visually declutter their room and elevate their energy for homework or fun activities, or it can gently soothe your baby to a peaceful sleep.
Smart and creative light can turn a room into both playful and safe oasis where kids can spend quality hours doing their homework, resting or playing. The following suggestions on how to set the light in the children's room and how to create an atmosphere of security and happiness for the youngest will help make their space age-appropriate and safe.
Nursery lighting
What is more important for a newborn than comfort and safety? Besides gentle wall colors, baby-themed wallpapers and appropriate minimalistic furnishing, the right nursery lighting will help soothe your baby to sleep.
Ceiling lights are the best solution as they often imitate sunrays and are gentle on babies' eyes. Using a dimmer switch to control light intensity will help them learn the difference between daytime and bedtime. Window blinds in neutral colors can contribute to the learning process.
Paper lanterns are made of inexpensive materials and can be suspended at different heights, so they easily contribute to the room's playfulness and they keep the babies entertained by helping them discover new shapes and objects. Gentle beams of several nightlights have the same effect when positioned differently across the room. Note ‒ avoid putting them near the edges of tables or shelves.
[amazon_link asins='B01M1NEUVB,B0073YPHHW' template='CopyOf-ProductGrid' store='preemietwinswp-20′ marketplace='US' link_id='e566b967-9703-11e7-8e36-2f74cbcb1b56′]
Kids to teens
Table lamps with dimmer switches are ideal for children's desks. By creating a learning atmosphere, parents help their kids with homework efficiency.
Drum pendants and task lighting combined make a perfectly illuminated room for both work and play.
A good reading light from floor lamps creates a perfect reading nook that will encourage kids to fall in love with books.
For a more adventurous approach and a starry ceiling effect, use LED lights. Their magical effect will turn the children's room into a place from a fairytale.
Safety first, design second
There are many designs and ideas for the interior of children's rooms, which differ depending on the culture, geography or aesthetic approach.
Some of the most interesting ideas can be found in the Australian approach to interior design, applicable to any children's room layout. Elements are usually quite adventurous-looking and the color palette is extraordinary.
But before we get to the carefree part, safety in the children's room is the number one priority.
In order to have high-quality lighting, the installation work should be done impeccably, which requires hiring a highly skilled and professional electrician to do all the work. So, when you decide on the lighting solutions for your children's room, contact an electrician who can competently conduct all the complex work, from start to finish.
Let us turn to Australian interior ideas once again ‒ from teepees for boys and girls with lamps that imitate camp-fire light to tidy-furnished rooms with wall lamps of cartoonish shapes and colors ‒ there is a lot of inspiring solutions and ideas for the perfect children's room.
[amazon_link asins='B01LR7FW9S,B0142UKTQI' template='CopyOf-ProductGrid' store='preemietwinswp-20′ marketplace='US' link_id='f7c7ec98-9703-11e7-8fbe-1dfed0ddbffc']
Mission accomplished
As much as children's wants and needs may differ, certain rules for safety and interior design need to be followed. You need to provide your kids with a safe and healthy environment, and the appropriate lighting in their room is one of the important factors.
Adequate lighting solutions will encourage kids to keep their rooms clean or maybe even add their own finishing touches. Either way, light up their way!