Disclosure: This post may contain affiliate links, meaning we get a commission if you decide to make a purchase through our links, at no cost to you. Please read our disclosure for more info.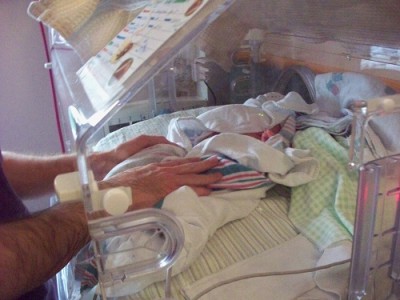 Carrying twins is far different from a singleton pregnancy. Risks for mom and babies are increased with a twin pregnancy, for instance. About fifty percent of twin births occur before the thirty-seventh week of gestation, which defines them as premature. That means that fifty percent of twin births are perfectly normal deliveries. However, for those in the preemie twin situation, a stay in the NICU can be anticipated. Sometimes this stay is only for a few days. Other times it may be for many months. Knowing what to expect can make a neonatal intensive care stay of any length more bearable.
1. Try to prepare mentally in advance for the very clinical feel of the NICU. It may seem very sterile and alien, but in reality, this is the best place for twin preemies who require extra care.
2. NICU is where little ones who are born prematurely need to be, but it can be difficult on parents when mom goes home before the kids. Remorse is natural. However, it is also fine for parents to get a good night's rest, enjoy a healing bath and have a decent meal. Dropping the guilt factor is important so that mom and dad can give their best to their miniature bundles.
3. Get to know the nurse, doctors and residents caring for the babies. These people are especially trained to deal with whatever situation parents of preemies are facing. They can give a world of insight, peace of mind and tips for bonding with and caring for premature babies.
4. Although parents may not be able to hold their newborn immediately, they are often allowed to touch. Talking to them and soothing them whenever possible helps the family feel more connected.
5. Moms who want to breastfeed do not need to give up this option just because of a NICU stay. Get a good quality pump and take breast milk to the hospital so that it can be given to baby. Mother's milk has many great nutrients that are good for all babies, including those who are unable to nurse right away.
Eagerly expectant parents of twins know early on that the risks involved in a multiple pregnancy are far greater than those of singleton pregnancies. However, that does not mean there is doom just around the corner for these folks. At least half of twin births end splendidly and without complications. The other half, on the other hand, may have some obstacles that require support from a NICU. Although the time spent in a neonatal intensive care unit is unique to each child's situation, being proactive about the possibility can make the situation a little less frightening for all involved.
Author Bio: Paul and his wife Julie both spend quite a bit of time coming up with ideas, blogging, and researching all things related to childcare. They take care of all the necessary information related to "babysittingjobs.com/". He personally thinks his blog will help finding information on all things related to a babysitter.