Disclosure: This post may contain affiliate links, meaning we get a commission if you decide to make a purchase through our links, at no cost to you. Please read our disclosure for more info.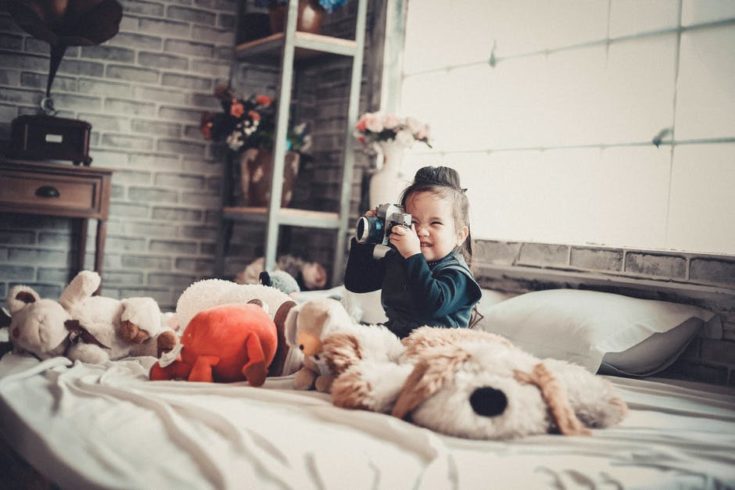 It goes without saying that the walls of a room are its largest surface and, therefore, a single biggest contributor to the ambiance of the place. Different colors influence people's ability to focus, their mood and even their appetite, which is why repainting the room creates a much greater change than that of a facelift. This is particularly important in your kid's bedroom, seeing as how they are incredibly susceptible to the outside stimuli during their young age. With this in mind and without further ado, here are several creative paint colors that are just perfect for your kid's room rejuvenation.
1. Red accent or lilac
Parents determined to do an accent wall painting in their kids' room should look no further than bright red. First of all, it energizes and raises the overall level of alertness, however, it might also irritate, even aggravate a child in question, which is why it might be better to do one wall in red and paint the rest of them with something lighter like Blushing Bride or even Spring Lilac 1388 by Benjamin Moore. In this way, the room becomes more harmonized, while maintaining all the positive effects of red. In other words, it will be as close to monochrome as possible.
2. Downpour Blue
While baby blue and even nautical blue may be a bit more popular choice (due to the fact that they're brighter), the problem with them is the fact that they are simply not as long-lasting. Because of this, going with marine blue like Downpour Blue 2063-20 might be a more sensible choice. The massive advantage of going with this hue lies in the fact that it's age-friendly and it will go as well with dark wooden hues of mahogany as they go with black or navy blue furniture. In other words, you get the privilege of sticking with a single color for a prolonged period of time, which is always a huge plus.
3. Gray as a safe choice
Not a lot of people support gray as a choice of color for the children's room, however, this hue has its advantages. In fact, most residential painting companies agree that the best way to prevent a room designed with organic furniture from looking rustic is to couple it with the right shade of gray. Those who intend to rely on bright colors for their major room accessories (cushions and nightstands) might find Graytint by Benjamin Moore as the perfect solution. Needless to say, this is also a great idea when dealing with pale wood, which is a common choice in kids' bedrooms.
4. Be careful with nuances of yellow
As far as yellow goes, happiness, cheerfulness and focus are probably three main associations, all of them being quite positive. On the other hand, too much of bright yellow has been known to evoke the feeling of anger in the past, which is on its own a reason to avoid it. The easiest way to stay on the safe side is to go with something mixed with pastels and white, in other words, something like Farrow & Ball Citron 74. Another great thing about this particular hue is the fact that it works great in combination with all sorts of patterns and wall-art, which makes it ideal for a playroom.
5. Go wild with green
Earlier on, we listed more than several hues as 'good in moderation', while warning not to overstep it. However, when it comes to green, it is simply impossible to go wrong, which is why you can utilize it to a maximum. In fact, those planning to make a monochrome palette in their kid's bedroom probably want to go with green as their go-to color. Its effects are mostly reducing anxiety, boosting speed and comprehension, each of which is more than welcome in a child's bedroom. Moreover, it can be easily combined with bright orange to inspire communication and cooperation.
At the end of the day, by changing the basic color palette in your child's bedroom you will easily transform it. Still, it is important that you carefully consider the personality of your child before attempting any of these painting projects. If your child is old enough, it might not be a bad idea to present it with two or three palette choices that you can't decide between and ask them to choose. Instinctively, a child will choose the one they like the most, which is already a great starting point. After all, it's their room.