Disclosure: This post may contain affiliate links, meaning we get a commission if you decide to make a purchase through our links, at no cost to you. Please read our disclosure for more info.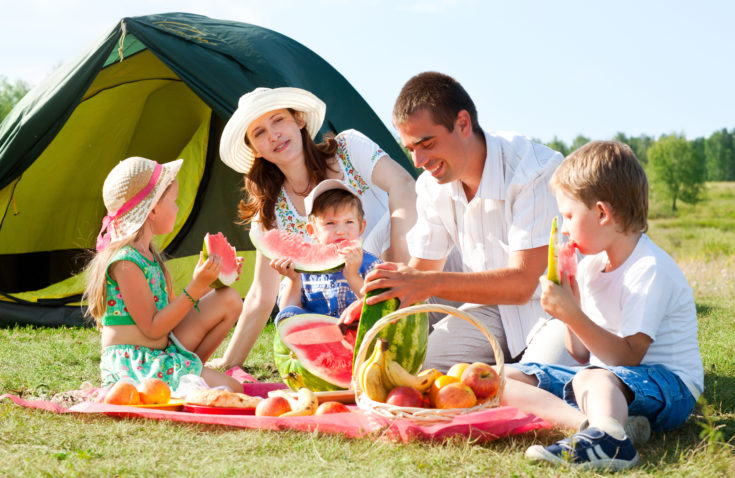 When you are planning a family vacation, camping can be a really good option. It can be inexpensive, and once you have things like a good tent (check out My Family Tent for some great tips on picking the right one for your family size and destination), you can use them again and again for more vacations in the future.
You may wonder if taking a very young child or a toddler camping is a good idea, or if things will be difficult for you and for them away from all of the conveniences of home. Actually, camping with young children can work really well, but it is advisable to take some extra things with you to make sure everything goes smoothly and your child enjoys the trip.
First Aid Kit
While a first aid kit is something everyone should have and take with them on vacation, with a young child you may want to pack some extra items in yours.
As well as the usual supply of bandages, antiseptic, and products for treating things that can occur on a camping trip like bug bites and sunburn, also bring along children's versions of whichever painkillers you usually use for your child (such as aspirin or ibuprofen), and children's allergy medicines in case your child reacts to something new they encounter out in the wild!
While it may seem like a bulky thing to have to bring, a portable crib can be a real boon when you need to keep your child safe but out of the way for a while, for instance while you are pitching the tent or outdoor cooking.
It can be a good idea to get your child used to a portable crib or 'pack-and-play' at home before you go too, as this will make it easier for them to sleep well in it on the trip.
[amazon_link asins='B00LVMSU0S,B005UV0UEA' template='CopyOf-ProductGrid' store='preemietwinswp-20′ marketplace='US' link_id='6ee48af1-c4ac-11e7-9a0b-b9c2b64cb694′]
While your intention is probably to spend most of your time on the trip doing things as a family, there will be times when you won't be able to devote your full attention to your child while doing some of the more practical things related to camping, and so you'll need stuff for them to do so they are not bored.
If you are planning to take a break from technology, as many people do while camping, you may not want to bring a tablet, but there are low tech things that can keep your child happy and amused like coloring books.
A lot of kids are afraid of the dark, and a good alternative to night lights can be snappable glow sticks which you can keep in the tent. Even if your child sleeps in the dark at home, the new surroundings of the tent may unsettle them, so this is still a good idea.
[amazon_link asins='B017PWTVSW,B072N3SXYC' template='CopyOf-ProductGrid' store='preemietwinswp-20′ marketplace='US' link_id='61e277c8-c4ac-11e7-93ee-b1b1748d586a']
With the right extra gear, camping out with your children can be enjoyable and not too stressful, so why not give it a try!