Disclosure: This post may contain affiliate links, meaning we get a commission if you decide to make a purchase through our links, at no cost to you. Please read our disclosure for more info.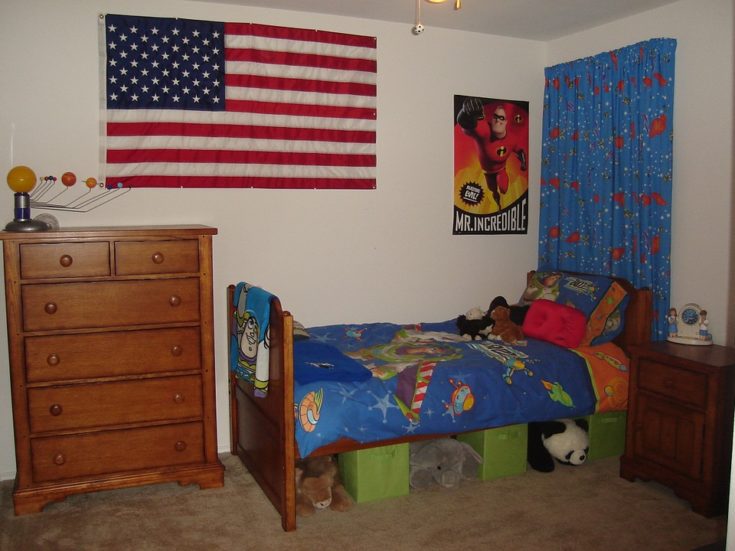 There is no reason why boy's bedrooms can't be stylish. While many enjoy littering their floors with clothing, the general aesthetics can provide them with a space they are happy to call their own and hang out in. As a parent, you'll want to give them a space truly catered to their own likes; find out how to decorate your son's bedroom.
Consider His Personality
The first thing you must consider is your son's personality. After all, it is him that will spend the most time in the bedroom and not you. For example, if he is a big sports fan, create a sports-themed room that will embrace his passion. You can hang football posters on the wall, decorative baseball prints, or even basketball bedding, which you can find here: https://www.visionbedding.com/bedding/basketball. However, if he loves to simply relax, unwind and indulge in sheer luxury, invest in a traditional sleigh bed, cozy rugs and more neutral walls.
Hanging Storage
Encourage your son to keep his bedroom both clean and tidy by adding hanging storage onto his wall. The pockets will provide the perfect place for him to store various clutter, such as toys, video games, school textbooks and more. Decluttering will also reduce the likelihood of him misplacing an item in his bedroom.
An Educational Environment
Your child's education is bound to be a priority. Create a learning environment within your child's bedroom by decorating the space with map wallpaper, which will look cool and encourage him to learn more about different countries across the world. You should also add a white desk and comfortable chair, which will look effortlessly stylish whilst providing him with a relaxing place to do his homework and study for exams. It's an effective way to encourage good studying habits.
A Fun Race Car Bed
Trigger your son's imagination by buying a race car bed for his bedroom. You can trust it will become a focal point, which is bound to impress his friends. It's ideal for creative, sports crazy boys who would love to spend their days pretending they are Sebastian Vettel or Fernando Alonso at the wheel of a racing car.
Modern Bunk Beds for a Shared Bedroom
Are you decorating a bedroom for more than one son? Space-saving bunk beds are the ideal solution. There are also many modern designs available on the market, which will provide each child with an element of privacy inside the shared bedroom. You could even add a reading light into each bunk to prevent arguments about whose turn it is to turn off the light, or to allow one son to read as another goes to sleep.
A Neutral Color Scheme
If you are creating a stylish space for a shared bedroom, it might be a wise decision to select a neutral color scheme, as your sons might not like the same colors. A neutral design will allow boys to have shared ownership of the space, rather than it appearing the room belongs to one sibling more than another. It will also provide unlimited possibilities for bedroom accessories and wall hangings, and they'll continue to enjoy the space as they grow older.