Disclosure: This post may contain affiliate links, meaning we get a commission if you decide to make a purchase through our links, at no cost to you. Please read our disclosure for more info.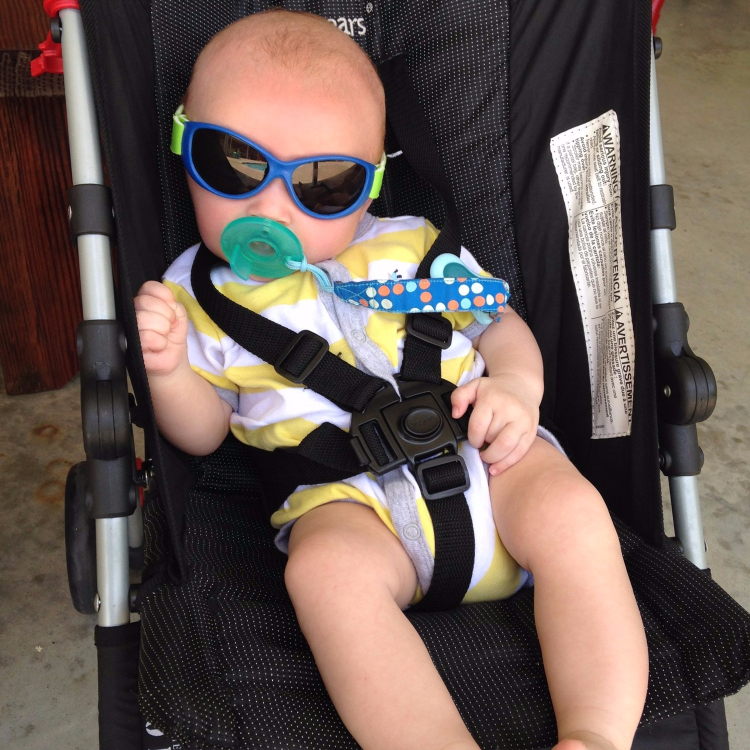 If you are intending to take your little one out this summer and especially in a stroller, you will need to safeguard your passenger against the intense heat.    Babies under six months can't wear sunscreen, so the obvious thing most moms and dads do is to throw a cover over the stroller, be it a baby blanket or even a towel.  A huge mistake as even a thin muslin blanket will most definitely cause the conditions inside the stroller to get uncomfortably hot and will put the baby passengers at great risk.
Temperatures can become something as hot as a thermos in the stroller, an uncovered baby carriage can heat up to 22 degrees after more than an hour covered and a stroller reaching 34 degrees in thirty minutes; after an hour in the sun the stroller can reach up to a whopping 37 degrees. With a lack of airflow, temperatures rise quickly in a restricted space posing a serious risk to little ones and small children alike.
Babies sweat less and the ability for them to regulate body temperature is less efficient and puts them at risk of suffering from dehydration, heat exhaustion and heat stroke.  Signs of extreme heat exposure include quick shallow breathing, vomiting, and restlessness, hot red dry skin, rapid pulse, lethargy, and unconsciousness   Any prevalent illnesses that the little one might have are made worse by the heat.
The parent is able to go outdoors safely with the little during a heat wave, by taking certain safety measures. Lucy at Best Jogging Stroller has these following tips:
Making use of a large canopy, a porous sun shelter or a mesh designed for a stroller ensuring baby is kept shaded while maintaining good airflow, preferably ones that rest off of the stroller than over it.
Dress the little one lightly  with loose-fitting clothing
Keep baby well hydrated with fluids more so than normal
Stick to shade areas for as much as possible
Checking up on your little passenger often, feeling the skin to make sure they are cool.
If there is no air-conditioning in the home, plan strategic breaks and stops in a coffee shop or a café to help cool off after an outing.  A library or even the mall could provide relief from the heat.
By incorrectly shielding the little passenger from the heat, the person taking the baby out in the heat for a walk in the stroller will be putting the baby at great risk.  By taking the proper measures of protection and of course not staying out too long, the little one's safety in the heat will not be compromised.
If heat stroke is suspected, then ideally the baby should be undressed completely and laid down in a cool area, and if outdoors some shade should be found but preferably rather taken indoors to a cool room.   Sponging down with a washcloth dipped in cool water will help considerably, but inevitably medical help and advice should be sought immediately from the doctors at the emergency room where treatment can be commenced.