Disclosure: This post may contain affiliate links, meaning we get a commission if you decide to make a purchase through our links, at no cost to you. Please read our disclosure for more info.
If you're going to have a baby, figuring out a diaper plan is an absolute necessity. Diapers are expensive, but you have to have them.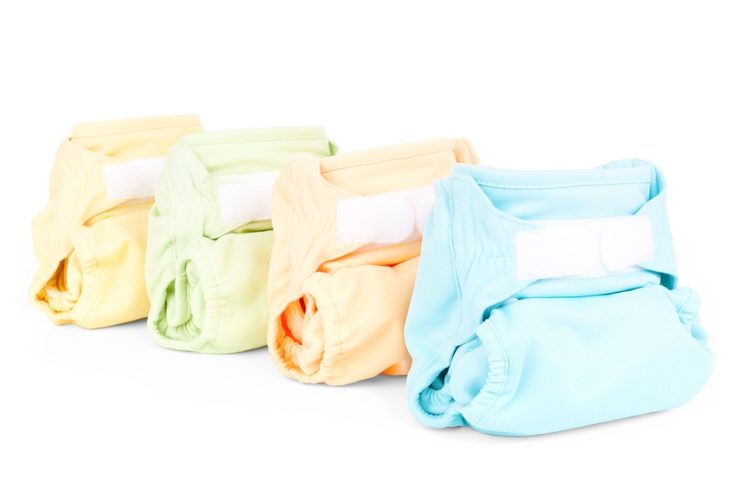 Most new parents just assume that the only option is to buy pack after pack of disposable diapers from the store, but in reality, cloth diapers are a good alternative that is better for your baby, better for the environment, and cheaper in the long run.
Below are five reasons why cloth diapers are better than disposable diapers.
1. Landfills
Disposable diapers are much worse on the environment than cloth diapers. The chemicals used to make them, along with the waste left inside them, get left in landfills and can cause damage to the environment, especially if it manages to get into the drinking water. Because of the sheer number of disposable diapers used by each baby, the harm to the environment is vast.
[amazon_link asins='B00C7JW3GQ,B007VBYVWE' template='CopyOf-ProductGrid' store='preemietwinswp-20′ marketplace='US' link_id='791c774e-11e0-43ce-bcbb-90d94181b8de']
2. Reusability
Cloth diapers are reusable, which means they only end up in the landfills after thousands of uses and make a much smaller impact. Also, the waste from the diapers goes into the toilet, where it can be dealt with in the same way as adult waste. After that, the diapers are washed and ready to use again. They are free of chemicals and as safe as any other clothes your child wears during the day, making them the best choice for your baby.
3. Absorbency
Disposable diapers are much more absorbent than cloth diapers, but is that really such a good thing? First, this absorbency can only be created through the use of several chemicals, which could cause reactions in sensitive or allergic babies. Second, the absorbency of disposable diapers often causes parents to change the baby less often than they should, which can cause rashes. Cloth diapers allow the baby to notice when he is wet or dirty, which will alert the parents more readily and keep the baby clean and rash-free.
[amazon_link asins='B01LVWQY6K,B007VBYVXI' template='CopyOf-ProductGrid' store='preemietwinswp-20′ marketplace='US' link_id='d3f59b3c-e362-4611-b43c-a51dd5d1fa49′]
4. Potty-Training
Because a baby wearing cloth diapers notices when they need to be changed, they understand the relation between their bodily functions and the results left in the diaper. This often makes them potty train at a younger age and more quickly. Babies in disposable diapers rarely feel the wetness after urinating, leaving them more difficult to get out of diapers.
5. Final Costs
Cloth diapers seem expensive if you just compare them to a pack of disposables, but because of the number of disposable diapers you have to buy over time, as well as the added time until the child is fully potty-trained, disposable diapers can eventually cost over a thousand dollars, far more than cloth diapers cost, even when adding in additional washing machine cycles. If you purchase used cloth diapers, which are often perfectly usable, if a little stained, the price difference gets even bigger. While some people feel that the work of cloth diapers outweighs the cost benefits, but there are diaper services that take the work off your hands, and even then the cost is the same or less than that of disposables.
[amazon_link asins='B01N5MFXXI,B00ZQJCN3C' template='CopyOf-ProductGrid' store='preemietwinswp-20′ marketplace='US' link_id='fcabec67-c3cb-4637-9c3e-f9396bbda597′]
Cloth diapers are clearly the best choice for your baby. They are safer for the environment, better for your baby's health, help you potty train sooner and more quickly, and cost less in the long run, leaving both you and your baby happy with the decision you made.