Disclosure: This post may contain affiliate links, meaning we get a commission if you decide to make a purchase through our links, at no cost to you. Please read our disclosure for more info.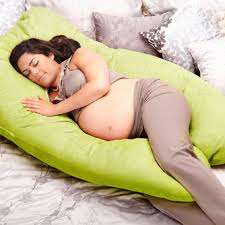 There is a great joy that occurs when women are pregnant. The oncoming due date is heralded as a great day. The birth of a child into loving arms is a great joy that all parents will recognize as great. However, the 9 months of carrying a child, and in some instances twins or more, can be rough. Trying to get through the months without any sort of discomfort is rough, but there are a few things that can be done to alleviate the pressure and perhaps give a little bit more comfort down the line. The following are some tips for pregnant moms, in hopes of lending a hand into establishing a little bit of comfort overall.
1. Use A Pregnancy Pillow
When it comes to a good night's rest, being pregnant may be difficult overall. This is something that is going to take on a very difficult task over the months. As the baby grows, and women put on weight, sleeping in a normal position may be tough. That's where a pregnancy pillow can come into play. A good pillow can allow for easier contours, and relief of pressure. The pressure relieving elements here can give comfort to joints, back, neck, and other strained areas.  
2. Try To Exercise A Bit
One of the best tips that you can utilize when pregnant is to exercise a little. This doesn't mean that one should be in the gym working out, but rather moderate walking. Getting a little exercise isn't going to hurt. However, one should not be overdoing it. There are limits here, and while it's recommended to get a good amount of movement, it should not be done to the point of injury, which is definitely something that could occur.
3. Don't Overeat
Eating for two is usually the commentary that is given to pregnant women. While that's true, that doesn't mean that you should overdo it. It's possible to gain extra weight, and even cause damage to the body while pregnant. Some women can end up becoming diabetic over this issue. It's important to not overdo it and focus on eating healthy, and within the limits that are given within certain parameters. Overeating may be easy to do, which is why this tip is important. Try to balance things out just right.
4. Try To Rest More Often
This may be easier said than done, but pregnant women should take time to rest a bit more than usual. A good night's rest is good, but if a nap can be had, then it should be taken. This will help alleviate pain, stress, and give the body a bit of a boost overall. Combine this with a good pregnancy pillow, and one can feel refreshed and renewed through the 9 month cycle of pregnancy.
The aforementioned tips are just 4 things that pregnant women should do. It's not a difficult matter to pursue, and could very well give the gift of a smoother pregnancy. Just testing the waters with these options can bring about greatness, so give them a test run.