Disclosure: This post may contain affiliate links, meaning we get a commission if you decide to make a purchase through our links, at no cost to you. Please read our disclosure for more info.
Before you had children, you probably had plenty of vacation days. They probably even accumulated. You might have taken an extra day off to go to the city or do some shopping or just do nothing. But, after you had children, your vacation days no doubt became limited. In all likelihood, they ran out, rather than piled up. If you took an extra day off, it was probably to care for a sick child or to attend a special school event.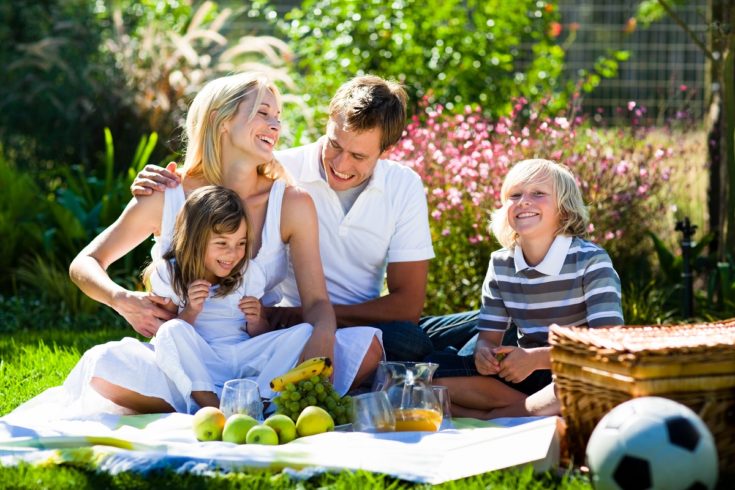 You're not complaining, though. Parenthood is an honor and a privilege. Fun time with your children is, well, a joy. Nothing in the world could ever beat it or adequately describe it. And, now you want to take a vacation with your children. The years are going by fast – faster than you ever expected and you want to make sure that wherever you go and whatever you do is enjoyable. Then, there's cost. You certainly don't want to go broke having a good time. So, can you really afford a really fun vacation with your kids? Yes, you can. And, here are three suggestions.
Rocking Horse Ranch Resort
Located in New York's Hudson Valley, Rocking Horse Ranch Resort is situated on a five hundred acre property, along a beautiful stretch of mountains and woods. It's about a two-hour drive from New York City. There's lots to do and it's all included in the price. The resort is open year-round. It's a horse ranch, so, naturally, you can enjoy horse riding, horse-drawn wagon rides, and even sleigh rides when there's snow. The ranch has it's own waterpark, foam factory, and BB Gun shooting gallery. There's also an arcade, bowling alley, and lots of games. Adults can enjoy the sauna, spa, and exercise rooms. And, social directors provide organized activities for all ages.Graduates from the Hudson Valley's Culinary Institute of America prepare the daily meals, so the food is sure to be good. There's also nightly entertainment, which often includes jugglers, magicians, and circus performers. Again, all of this occurs inside, year round.Outside, in the summer, there's a private lake, pools, water skiing and other water sports. Until fall, there are sports of every kind, camping, and bonfires. In the winter, there's ice-skating, skiing, and snow tubing. And, all year round, there are nature trails, wildlife, gardens, special events and organized goings-on. Accommodations, depending on month and week, range from $189 to $309 per night, each adult, and $45 to $89 per night, each child, and some specials allow kids to stay free. You can also choose rooms with bunk beds and two bathrooms.
Carnival Cruise
Carnival Cruise is the most economical of all the cruise lines. It offers various departure points in the continental United States. Those points are:
Baltimore, MD

Charleston, SC

Fort Lauderdale, FL

Jacksonville, FL

Miami, FL

Tampa, FL

Orlando, FL

Seattle, WA

Galveston, TX

Long Beach, CA

Mobile, AL

New Orleans, LA

New York, NY

Norfolk, VA
Onboard, there are a host of amenities, including waterparks, obstacle courses, sports, arcades, games shows, and movie theaters. Carnival also offers Seuss at Sea and individualized, age specific camps for children, from ages 2 through the teens. Activities include crafts, science and discovery, treasure hunts, and sea outings. As well, there are casinos, bars, restaurants, shops, shows, and entertainment geared toward the parents. The destinations are nice, too. On a Carnival Cruise, you can visit:
the Caribbean

the Bahamas

Mexico

Bermuda

Alaska

Canada and New England

Hawaii

Panama Canal

Australia

Cuba
Prices vary greatly depending upon where you depart, your destination, and cabin size. In looking at all the departure points and destinations, prices ranged from $179 to $1,719 per person (plus fees, taxes, and port expenses). You get a lot for your money. And, if you can reach a departure point by automobile, it offers additional savings, even if you have to pay a parking fee. Many have to fly to their cruise departure point and the airfare adds thousands to their trip budget.Except for a few of the activities and certain drinks, everything onboard is included in the price. What you do at a destination is extra, as well.
Dinosaurland
Dinosaurland is technically located in Vernal, Utah, but it stretches over 200,000 acres, across both Utah and Colorado. Dinosaurland's history is quite fascinating. In 1902, the Carnegie Museum of Natural History hired paleontologist Earl Douglass to conduct fieldwork. In 1907, Douglass travelled to a site in Utah, where he found perfect Brontosaurus tailbones. He then went on to extract 350 tons of dinosaur bones. In 1915, President Woodrow Wilson established Dinosaur National Monument to preserve the dinosaur fossil quarry. One hundred years later, the Carnegie Museum of Natural History houses the rebuilt skeletons of the dinosaurs Douglass excavated and the monument remains preserved. There are two sides to Dinosaurland. There's the Utah side, where Dinosaur National Monument is located. You can see the quarry there. Fossils still remain buried in the cliffs and you can even arrange to take part in a dig. In addition to the dinosaur fun, there are other things to do in Vernal Utah, including an old-fashioned frontier, boating, camping, biking, fishing, horseback riding, scenic drives, and wildlife gazing. On the Colorado side, there's the Green and Yampa Rivers and, of course, the Grand Canyon. You should know that there's no dinosaur fossils or anything dinosaur related on that end. Still, you can hike, take a helicopter ride, ride a mule or horse, and go river rafting. You can also Paragon Skydive, which is a glided, free fall through the air. And, there are Native American galleries and gift stores to explore. The cost of a trip to Dinosaurland depends on what you do and where you lodge. There are more than 120 campsites around Dinosaur National Monument that accept RVs. This article, however, is assuming vacationers don't own and/or aren't going to rent an RV for such an excursion.The site only listed motels and hotels in Vernal, Utah, and it appeared that you stay there even if you are spending time on the Colorado side. Using a discount service, and looking throughout the year, there was a range of rates from $49 per night to $180.00 per night. Passes into Dinosaur National Monument cost $40 each for each adult. It's good up to twelve months after the date of purchase. Children in fourth grade and under and military personnel are admitted free. An $80 annual pass admits the holder and three adults for up to twelve months after the date of purchase. Should you wish to do other activities, there could be considerable fees. Here are a few random, rounded off costs:
River Rafting: ranged between $100-$1,125 a person (some were more than one day)

Three-Day Fishing Trip: about $500 a person

Paragon Skydive: $299-$479
You'd do best to figure out what you'd like to do, research some sites and plan accordingly. Hiking and enjoying the beauty of the region is always free.Dinosaurland remains a great bargain. The admittance fee is reasonable and there's an immediate three-for-two discount, along with free passes for children and military personnel. Plus the passes are good for an entire year, though admittance is only available late Spring through early Fall and some activities are only conducted during that period, as well. Lodging is also reasonable.
The Bottom Line
These are just three examples of the fun you can have with your kids on vacation. There certainly is a variety from which to choose and a wide span of settings. As mentioned throughout, you can keep funds low provided you do your research and plan carefully. That's standard with everything these days, anyway. Whatever you do, have fun. And, take lots of pictures. Remember – these days go by fast. You'll want to remember it all.